These darling Toy Aussies make the greatest pets. They adore children. Beautiful coats easily maintained. Training is a breeze due to them being born smart! Ours are pet door trained from 5 wks. of age, weather permitting. We are producing 3rd, 4th & 5th generation Tug@YurHart Toys Australian Shepherds.
Be sure to read our Guarantee,Puppy care, & Guestbook pages from our previously placed pups! We are rated A+ with BBB, licensed with CO Dept. of AG & AKC inspected.
Please text or call Kimberly Jones at 970-234-1596
email: info@dandydogs.net
Available for sale Toy/Miniature Australian Shepherd puppies pictured below:
Toy/Miniature Australian Shepherd puppies for sale in CO
***Our Toy/Small Miniature Australian pups are always vet checked, prior to coming home to you if sufficient time has been given. We also administer their vaccines & dewormings on a timely schedule (please go to our puppy care page). We give a 1 yr. health guarantee on puppies $900 and up. Our puppies are pet door trained to eliminate outdoors. Weather permitting of course. We like our Toy Aussies to be right at 3# before going home. Sometimes this means keeping them until 9-10 wks. of age. Extra attention needs to be given to tiny puppies to assure their good health.
Hi! I am so sorry. I just found this text that I thought I had sent. I wrote it right after I picked up Petunia. She is pefect for this household and we love her a lot..
.........Petunia is such a sweetie! It does not look like she got sick on the flight. So that's good. Thank you so much!
Hi how's it going? I have been having trouble with my email, and am not sure if you received the update on Jade.
It has been a great couple weeks since Jade first came home, but I have named her Squizzy Longsocks, Squizzy for short. Everyone here loves her and a I feel like a pretty lucky pet parent. Her are some pictures of her.
Hi there! Made it home safely! My girls are a little annoyed with me buth they are coming around. I decided to name her Kali after the hindu goddess of life, death and rebirth. I'm a yoga teacher and Kali is a strong and mighty goddess. Kali is also my California girl, so it works well and she seems to like it! Anyhow, thank you so much. I love her to bits. Such a good girl already doing her business on the pee pads and soooo sweet, hardly a peep out of her, until there is and she's likely to be a talker!
Happy Holidays!
Nancy G. of Oceanside, CA *her 2nd Toy 10 years later.
Super happy with our dog! Home safe. Thank you so much. He was a trooper.
7lbs and so awesome...He is a little OCD which is fine because he picks up all the toys in the living room and puts them in various beds.
Kimberly, we purchased a toy aussie from you about 5 years ago. Her name was Gabby and we named her Bella. Just wanted to let you know she is the smartest dog with a great personality. Thank you!
Tony T. of N.Y.
Hi Kimberly, just wanted to let you know Justine now (Tucker) has made it home safe, he is such a good traveler and a perfect choice for us. He is well adapted to his new home and is super playful and spunky....well worth the trip....thank you....
Sean & Delilah Gardnerville, NV
She is officially part of the crew! Thank you so much Kim she's a little blessing!
Summit took Maple (new name) right in and made her feel at home.
I can't believe how chill this little pup is. You and Kriss breed great pups! Thank your for meeting up with my ladies yesterday and making it happen.
Steamboat Spgs., CO
We couldn't be more happier with our new addition to the family. He seems healthy and showing no signs of syptoms.
He's an amazing dog and you guys do a great job with them.
Yes he is very calm but he has spurts of energy and can be feisty at times.
Telluride, CO
Hello , this is Kristy, I just wanted to let you know that we made it home safely with Gerald (now Riley) and he is fitting in well here! He has friends to play with and they are being gentle and loving. He enjoys his new toys and his bed! He has stolen my heart in less than 24 hours! The vet is closed today (since it's Sunday) but we are calling the vet in the morning to get him a checkup) Thank you very much, you can tell this little guy had alot of love and care before we got him, now he's gonna be my spoiled baby!
Kimberly,
We want to take the time to thank you for the most wonderful experience we have ever had with finding an Australian Shepherd. Over the last 30 years my wife Christine and I have had many Aussie's, both from great blood lines and from adoption facilities. Working with you Kimberly, you have helped us understand this breed better than we ever did, both about training methods and nutrition needs. The little girl you sent to us is as perfect as they come. She is healthy and full of life, and ready to give us many years of enjoyment. We have never had a baby like her adapt so quickly to her new environment which tells me that she was well kept and trained by either you or your team.
I would recomment to anybody who looking for a great dog to add to their lives, make sure and look at the Dandy Dogs website. If the breed that they are looking for has been handled by your team, Kimberly they should choose that dog.
Chris, Allie, Dakota and I will always be thankful for you bringing all of us together.
HershyMichael R. Hershberger
Yes, I read it, I will get her the puppy proplan. I will email you when I get home from the flight and keep you posted if I have any questions if that's okay :) She's doing so well on the ride home she's so quiet and so good! You are a great dog breeder, I thank you so much for Sassy!
Thank you Kimberly! She's SUCH a great dog, how did I get so lucky? She was completely worth the travel! We just boarded our plane Sassy says hi!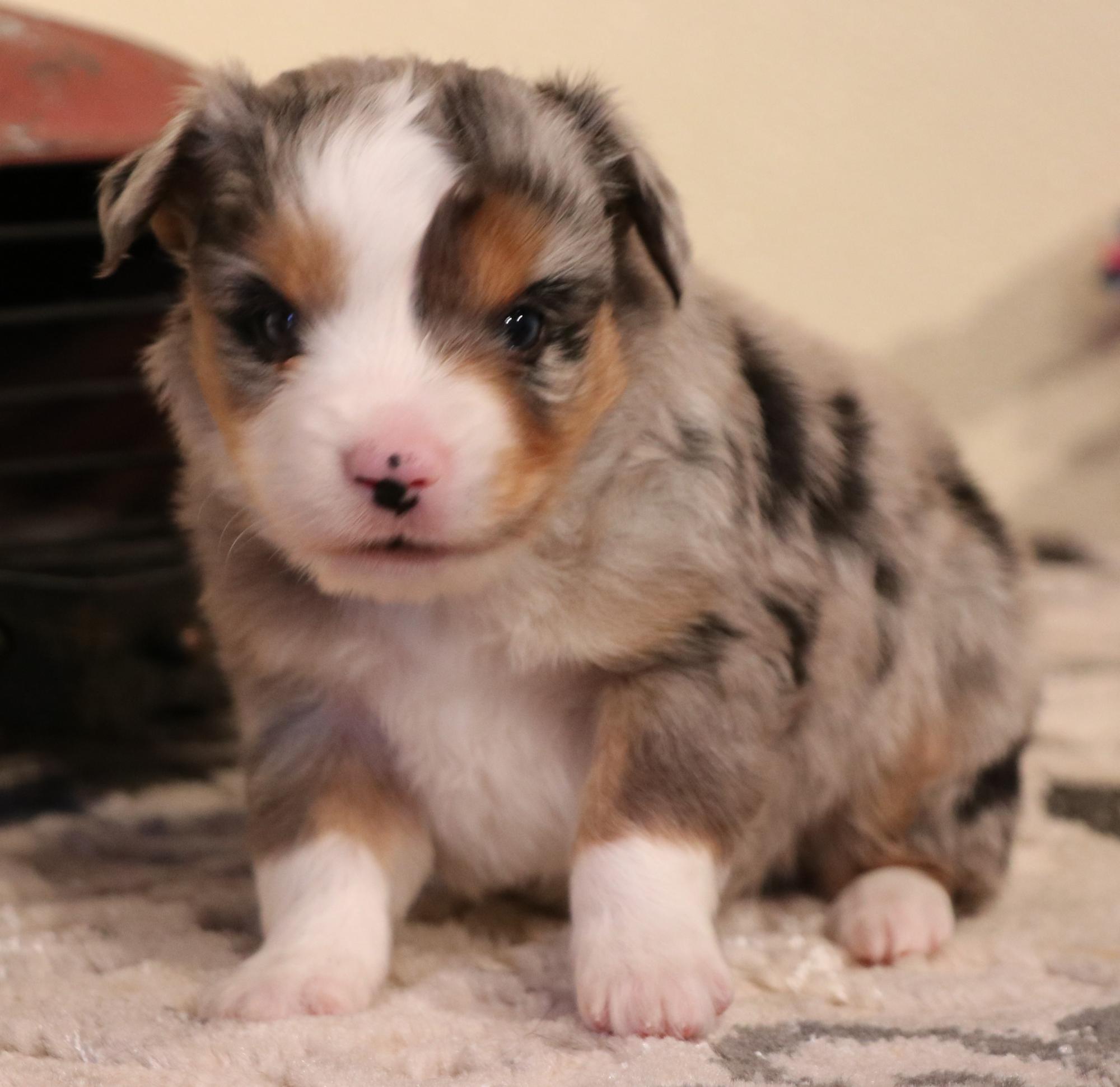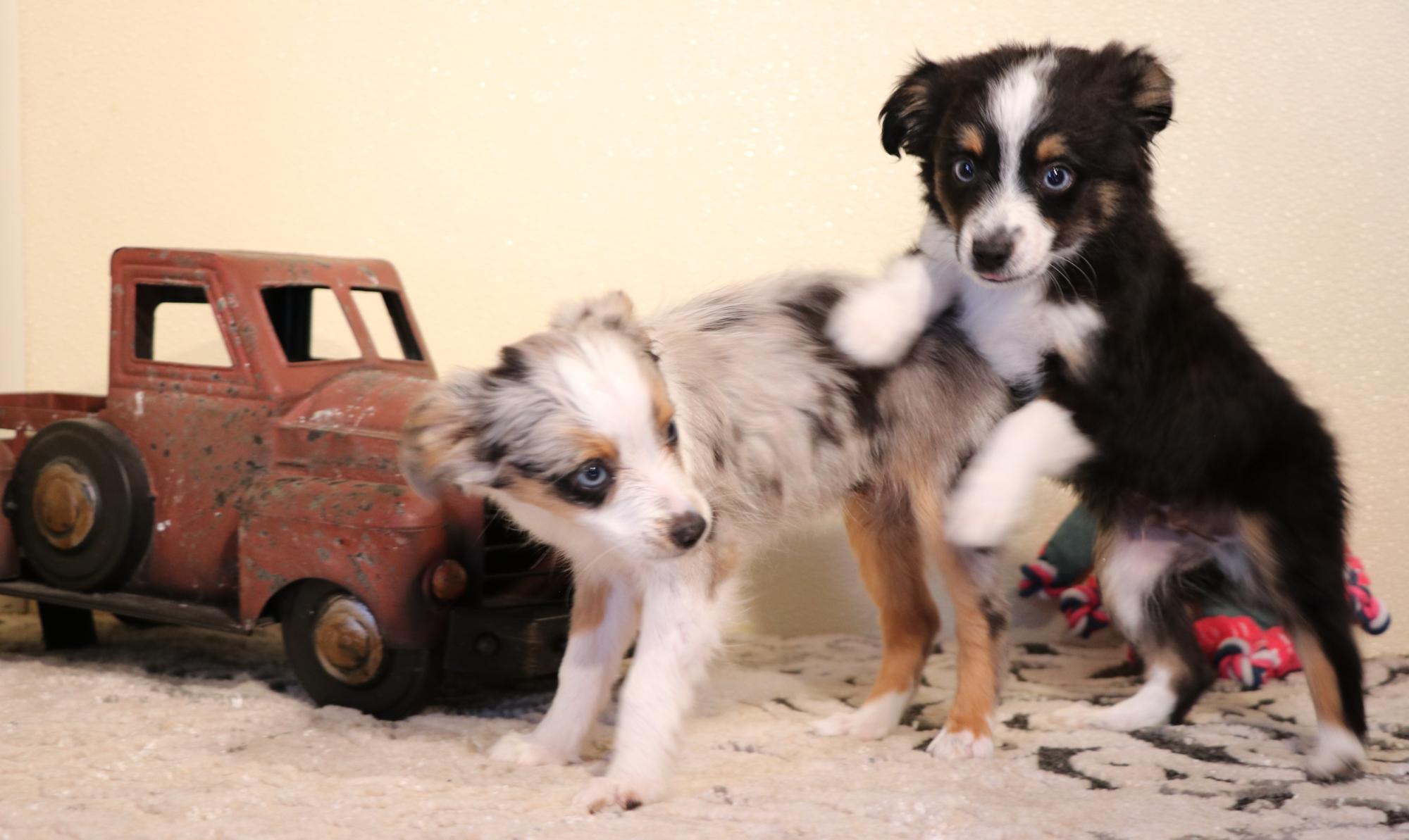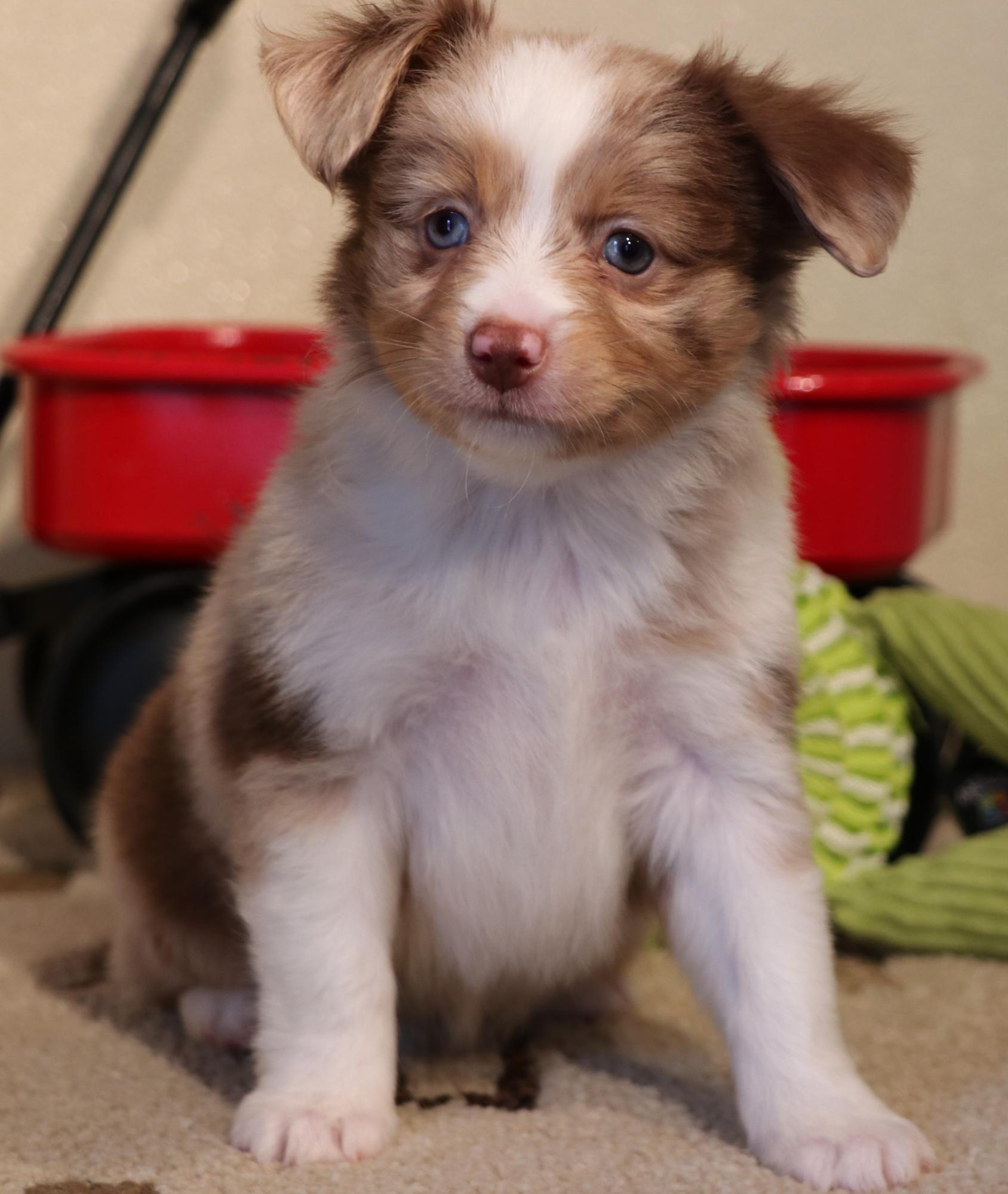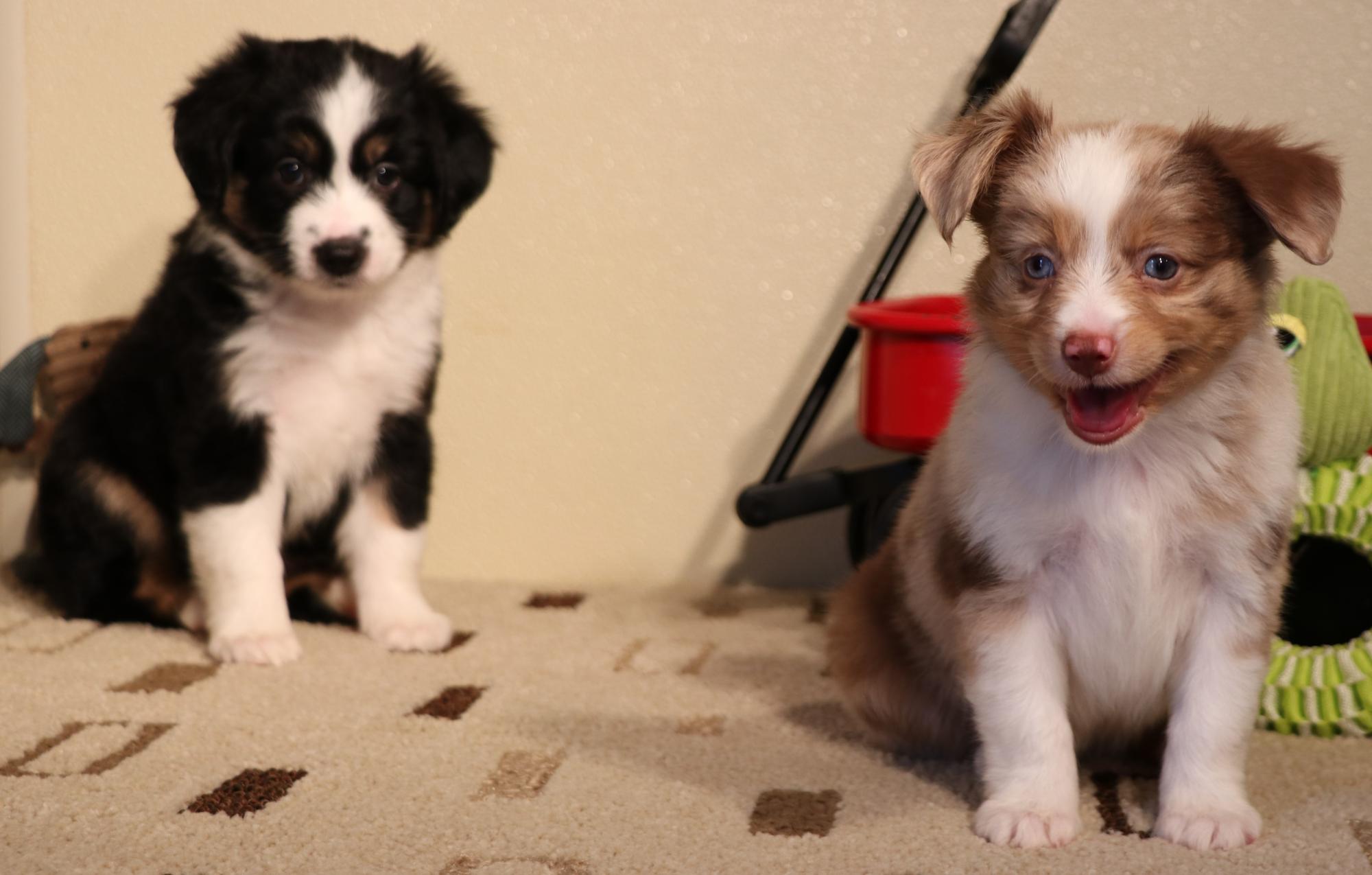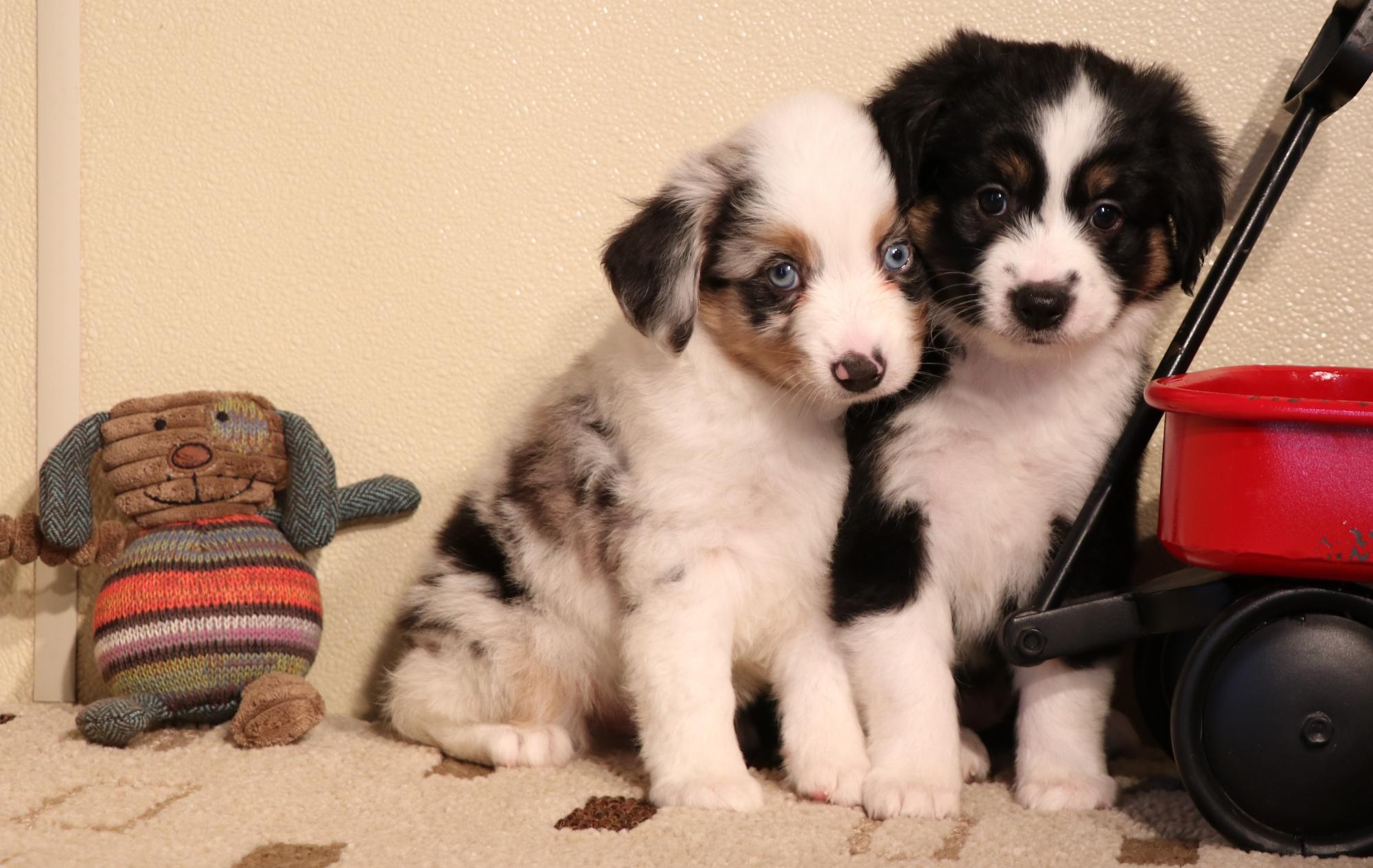 "Razer" FOUND HIS FOREVER HOME 3/22! Johnny V. of Helper, UT *their 2nd from us nearly 10 years later! Black-tri mismarked Toy Aussie male *super sweet boy! On 12/13/21 weighed 10 lbs. & 11" tall
Toy Australian Shepherd | Toy Australian Shepherd Breeder | Mini Australian Shepherd Breeder | Toy Aussies | Mini Aussies | Toy Australian Shepherd Puppies for sale | Mini Australian Shepherd Puppies for sale | Puppies for sale | Teacup Australian Shepherd Breeder | Blue Merle | Red Merle | Harlequin | Tweed | Phantom | Black-Tri | Red-Tri | Blue-Eyed Tri | BM | RM | BT | RT | BET | Toy Aussie puppies for sale | Toy Aussie Breeder | Miniature Aussie puppies for sale | Miniature Aussie Breeder

Tug At Yur Hart of CO has Toy/Miniature Australian Shepherd puppies listed for sale on puppyfind.com, k9stud.com, puppysites.com and breedersclub.net.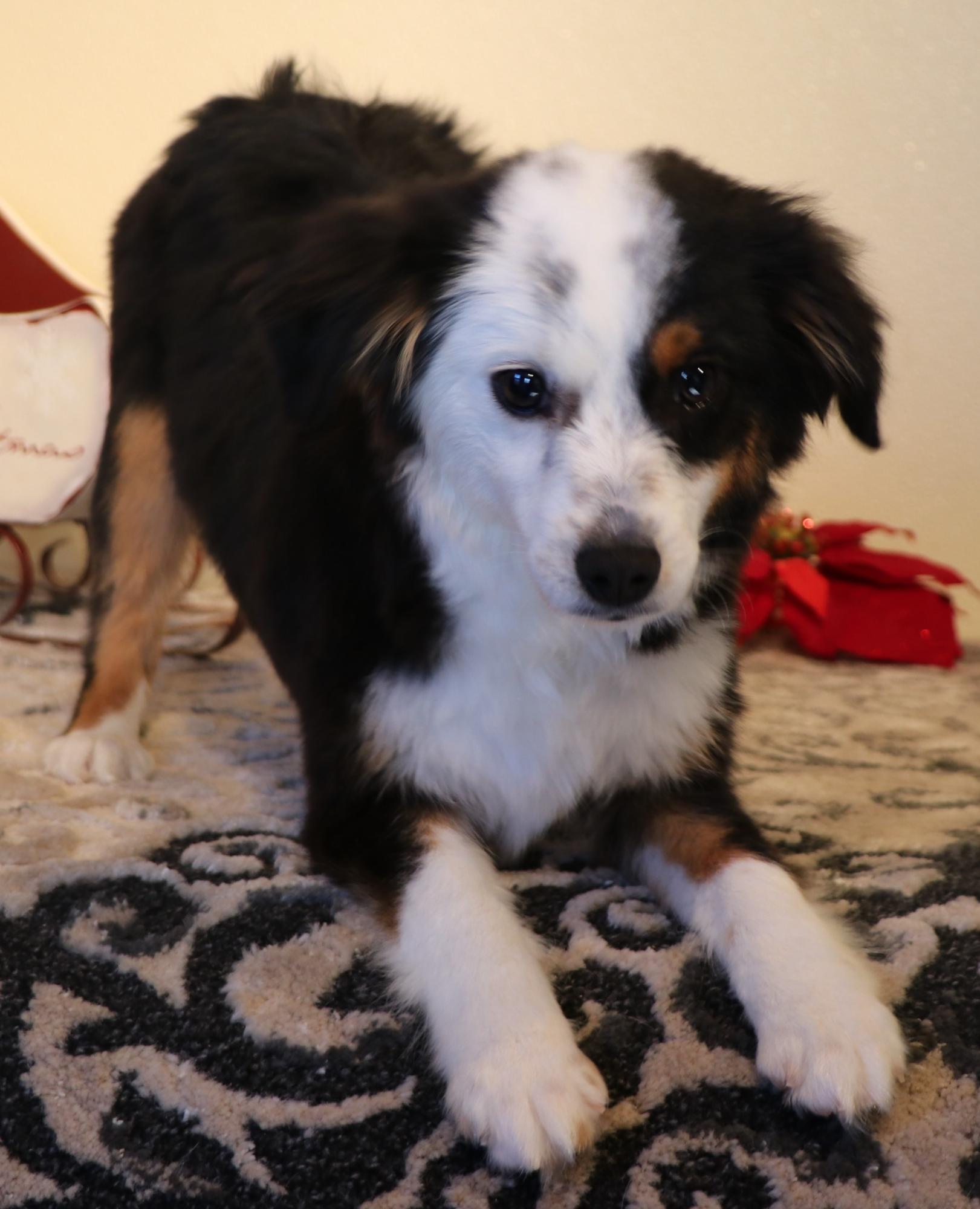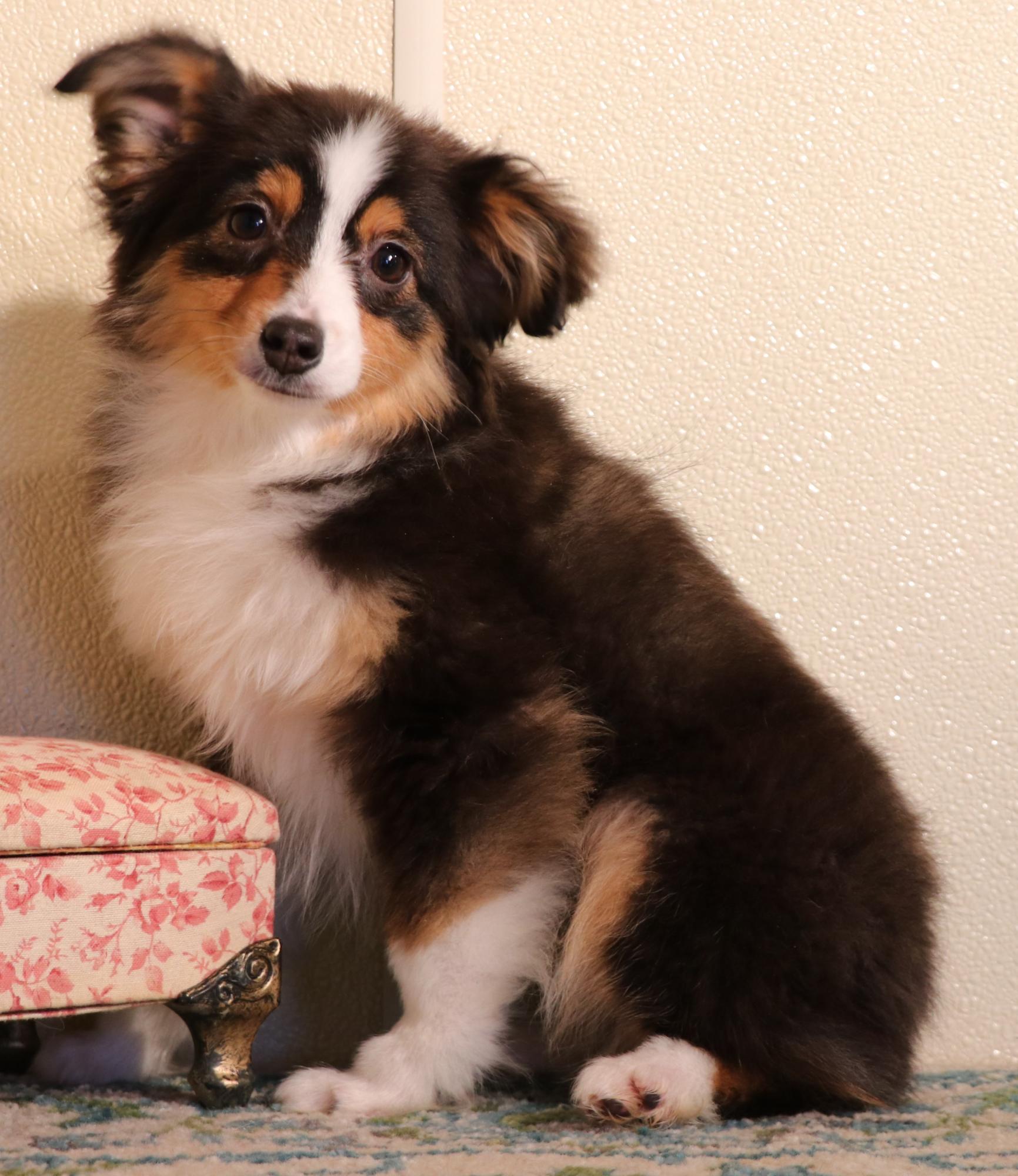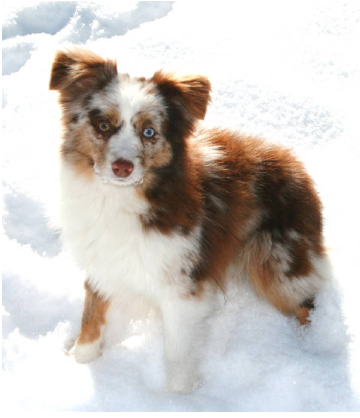 Chloe our black-tri Toy Aussie has this litter with Patriot our red merle Toy Aussie male. Born January 5, 2022 ready March 2, 2022!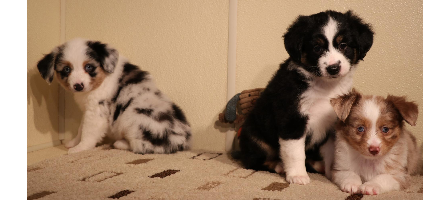 "Cassie" AVAILABLE $2000 Blue Merle Large Toy Aussie female with 1 blue & 1 brown eye *up to 15 lbs. once mature.
"Chloe" AVAILABLE $800 Black-tri Large Toy female *predict 16 lbs. once mature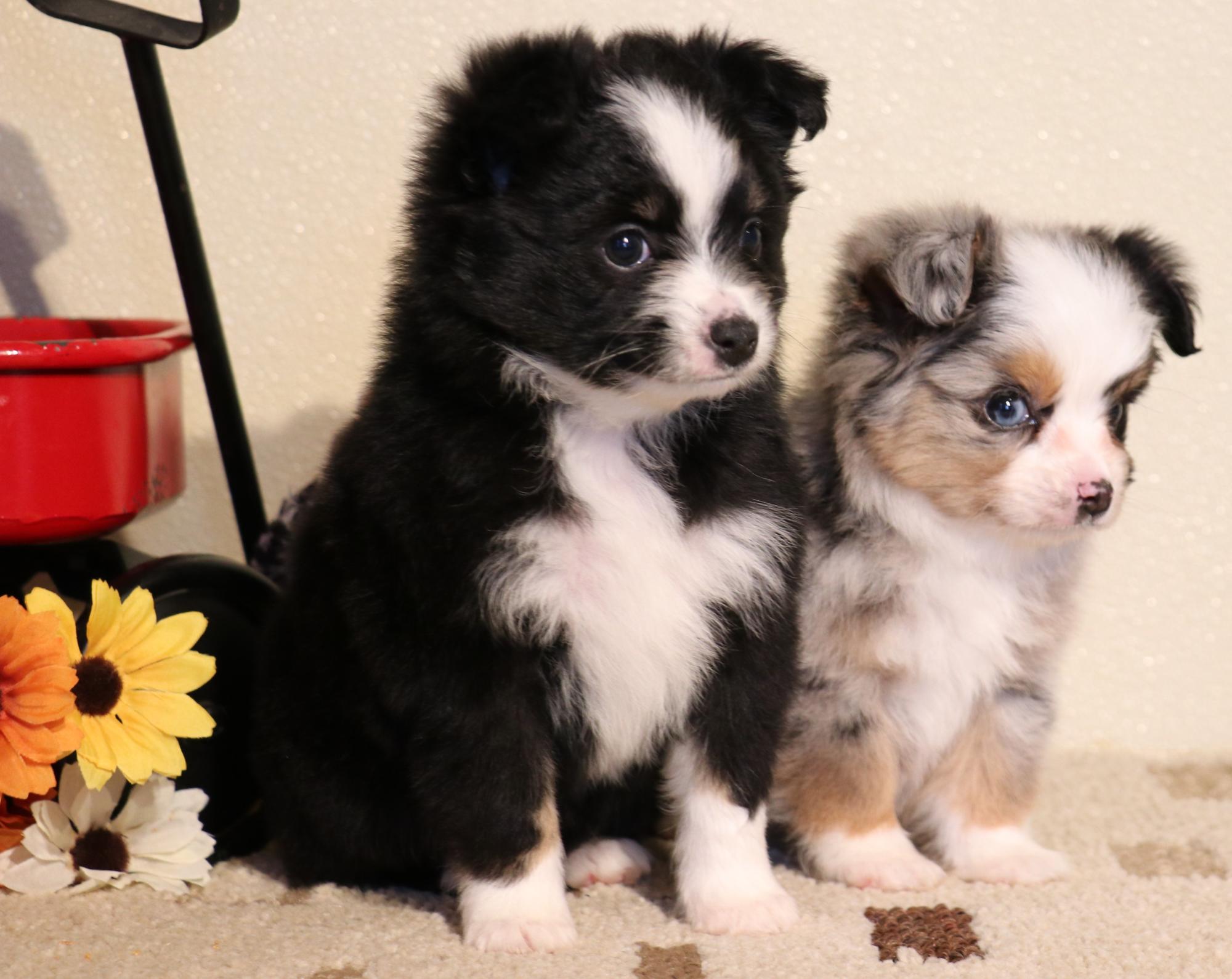 Iris our blue merle Toy Aussie female has this beautiful blue merle and black-tri litter with Panda our black-tri male. Born May 3, 2022 ready at 8 weeks of age on June 28, 2022.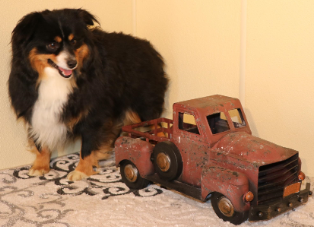 "Iris" AVAILABLE $2400 Blue Merle Toy Aussie female *2 blue eyes
2 lb. 5 oz. on 7/28/22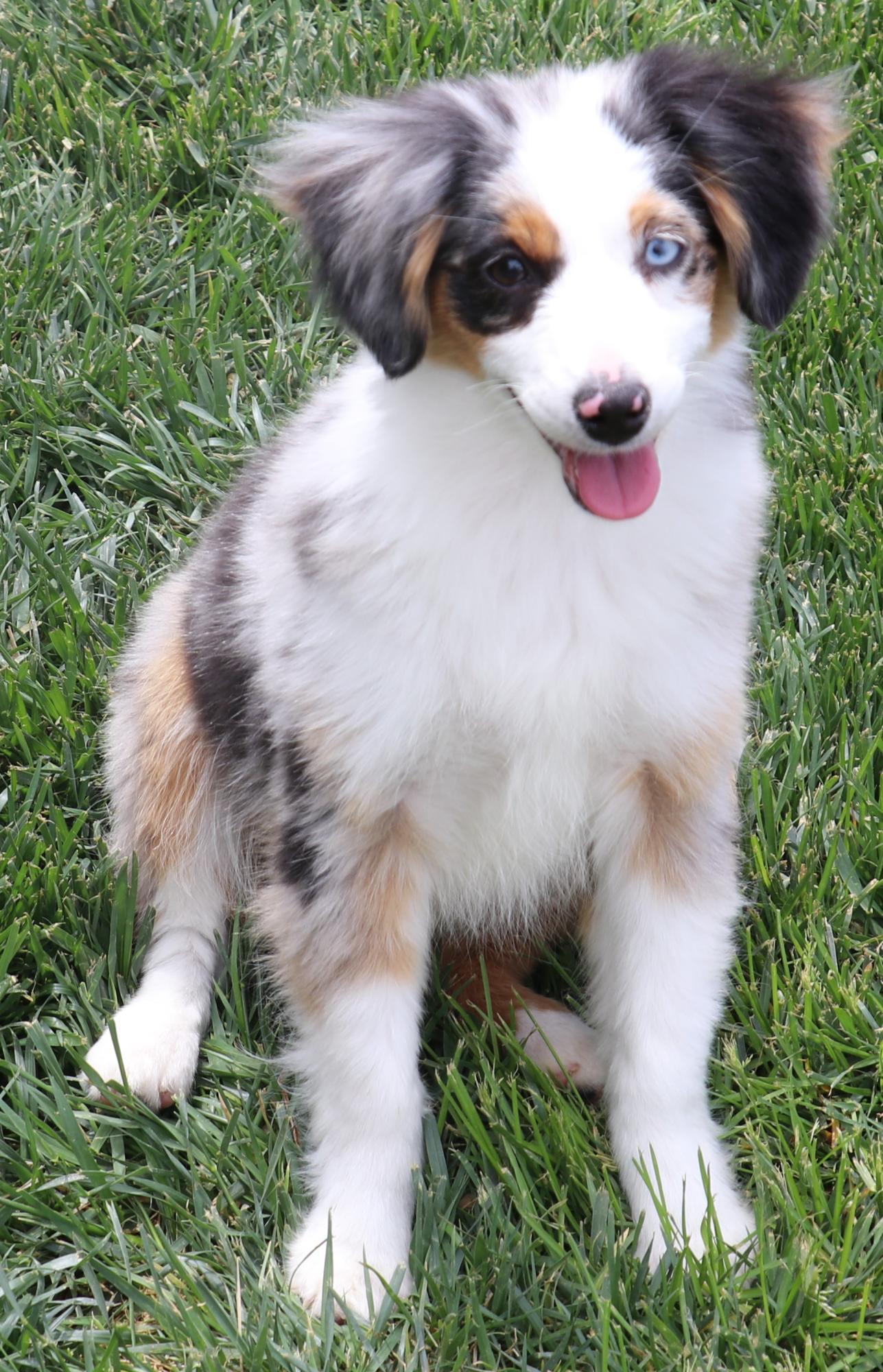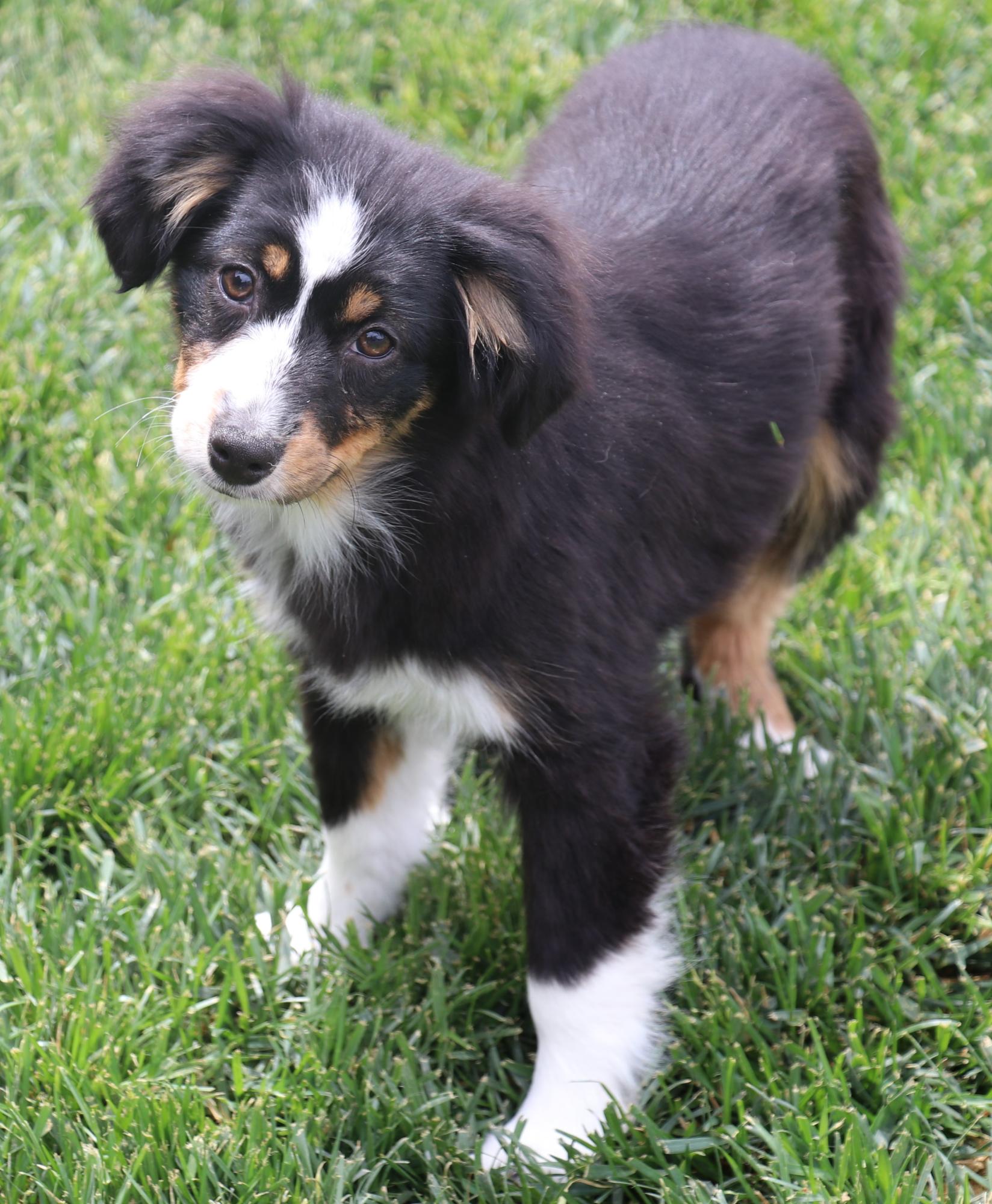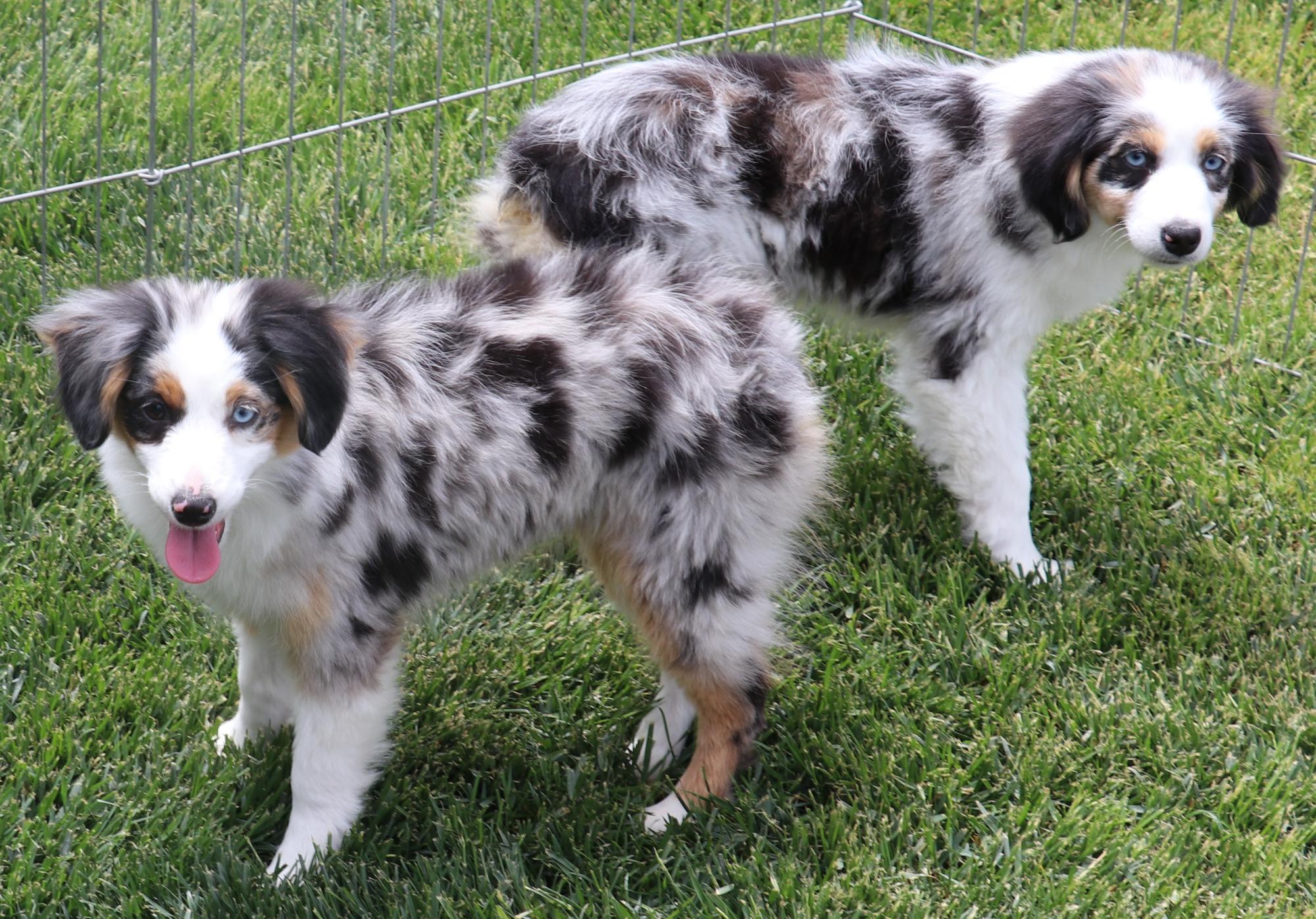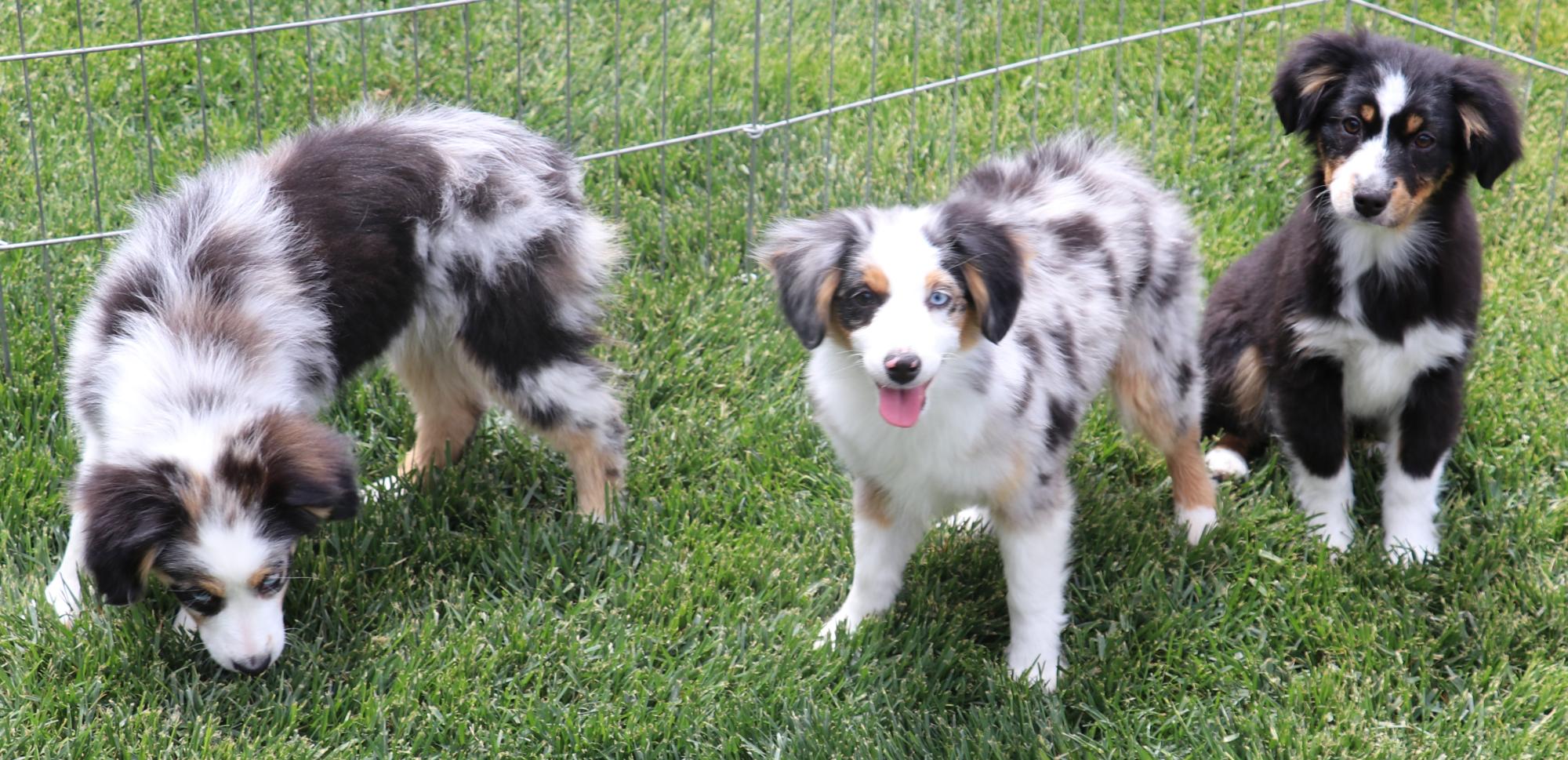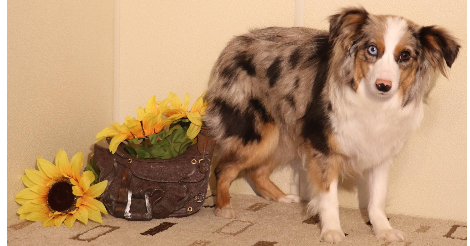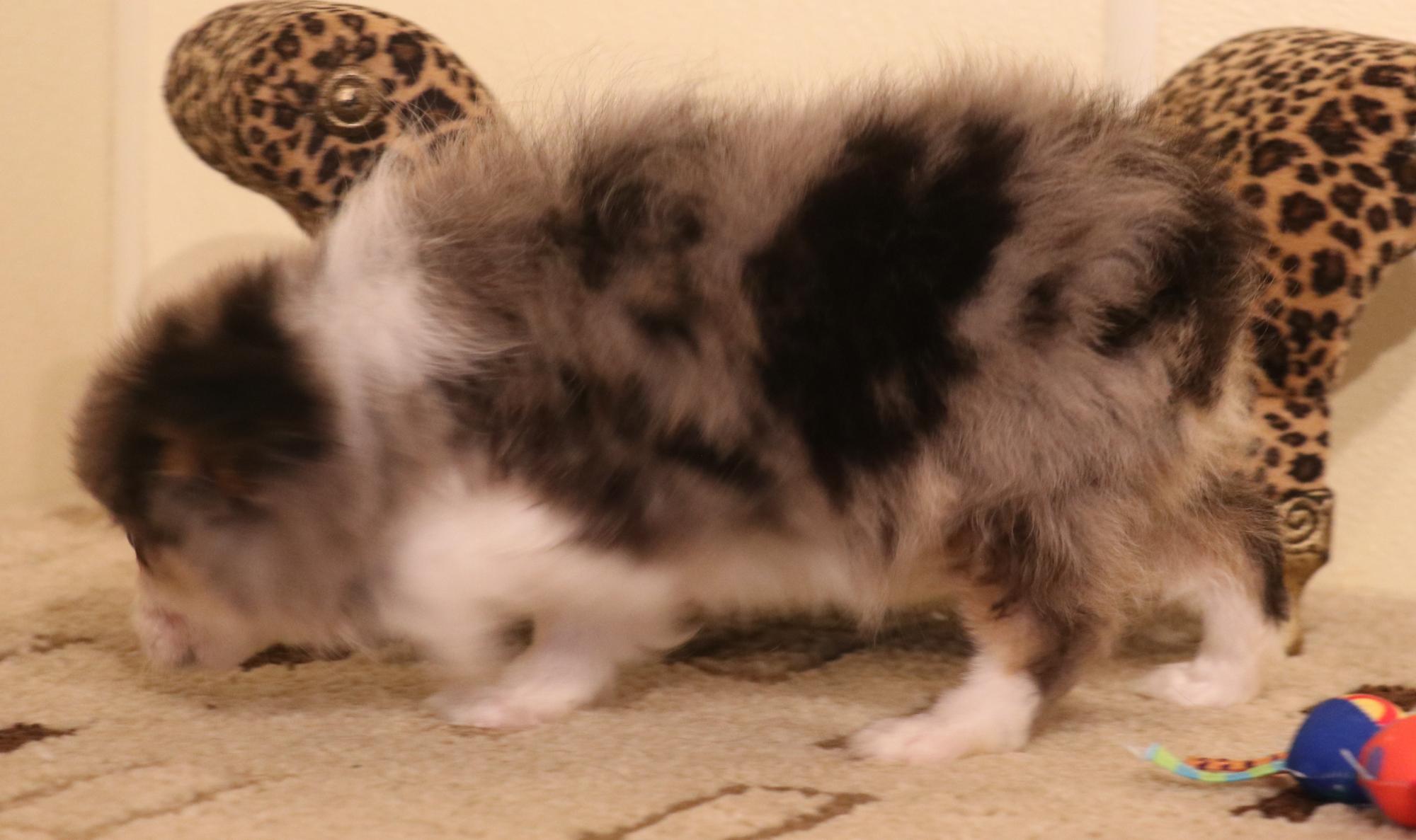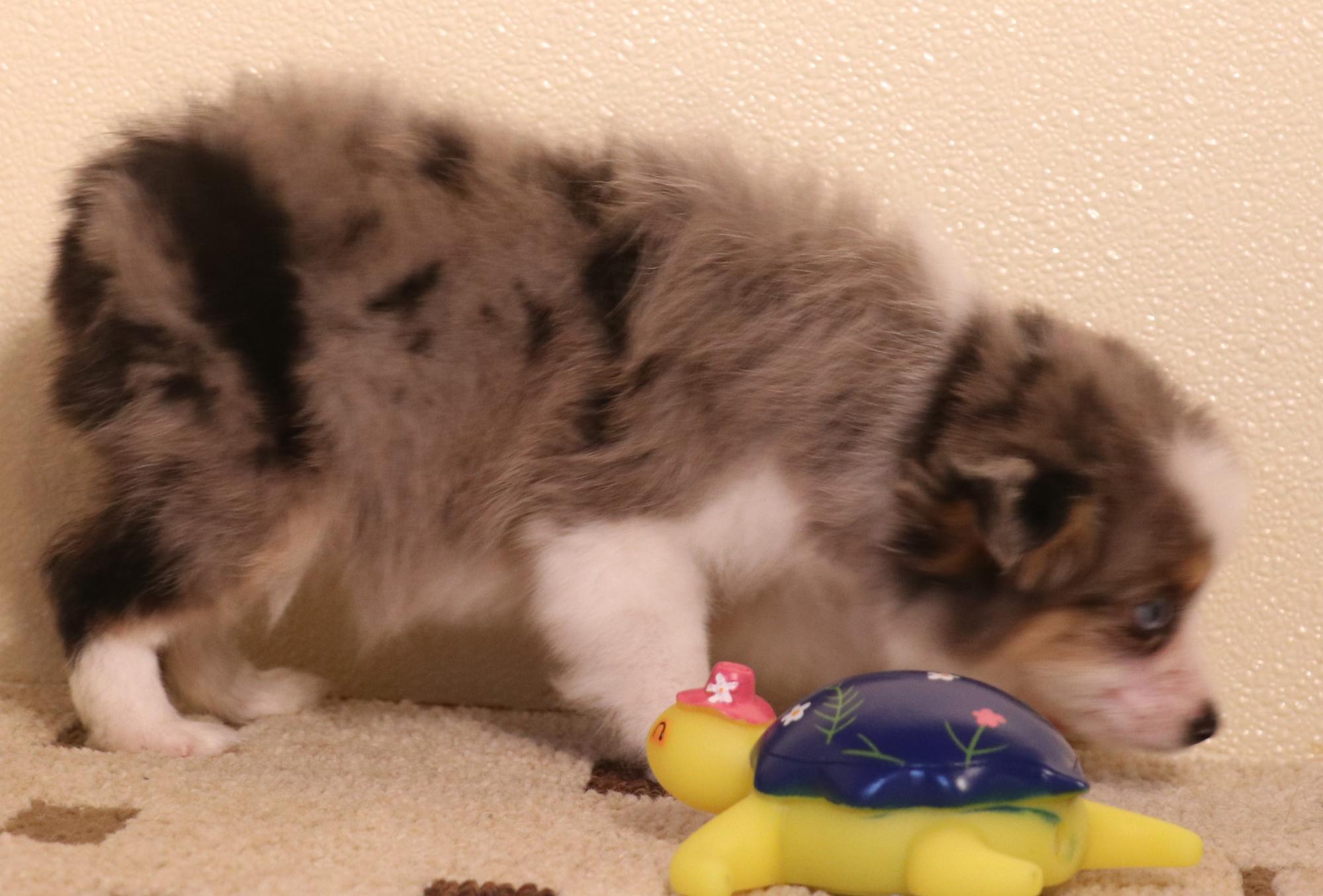 Roxie our black-tri large Toy Aussie (14" & 23 lbs.) female bred Trigger our blue merle Toy Aussie (12" tall & 10 lbs.) to produce this beautiful litter.
Born August 3, 2022
Ready September 28, 2022
R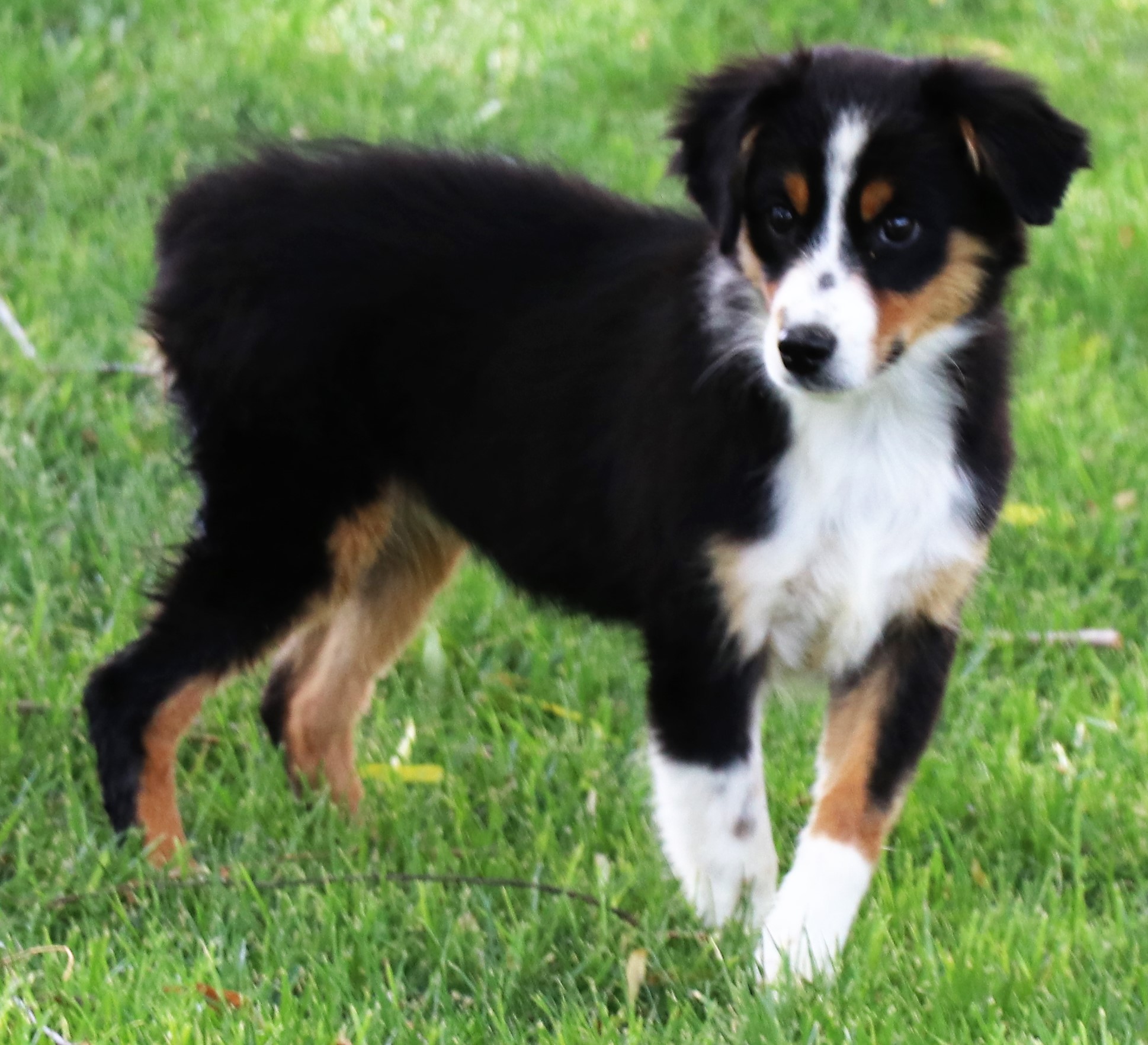 "Rawhide" GONE HOME WITH JUSTIN M. OF LITTLETON, CO $1700 Red Merle large Toy male with 2 blue eyes! He weighed 9 lbs. on 11/28/22
"River" GONE HOME WITH COREY & WIFE OF TAOS, NM $2400 Blue Merle Toy female with 2 blue eyes!
"Rae" AVAILABLE $1900 Blue Merle Toy female *has 1 blue eye the other is blue/brown flecked. Weighed under 10 lbs. on 11/28/22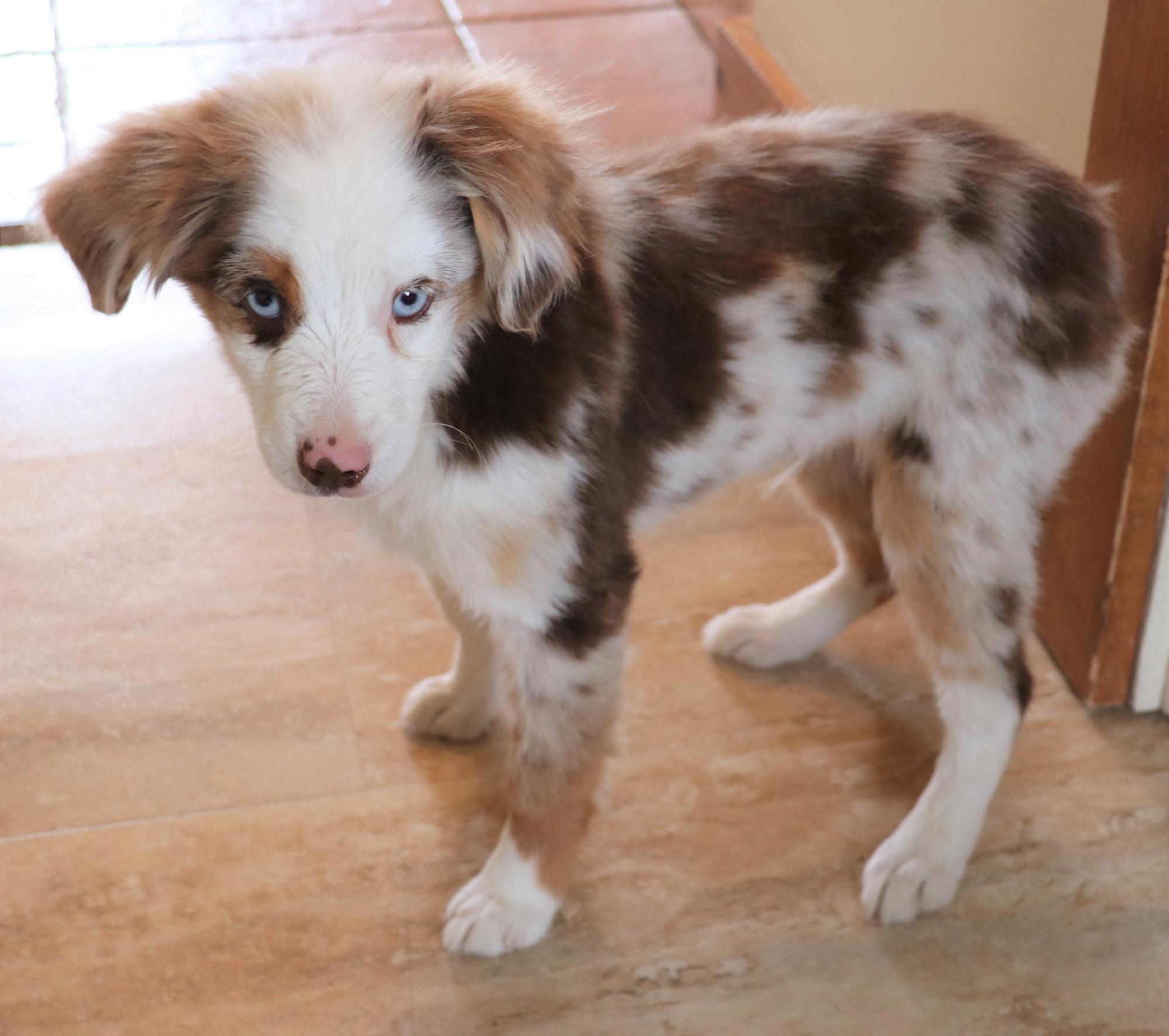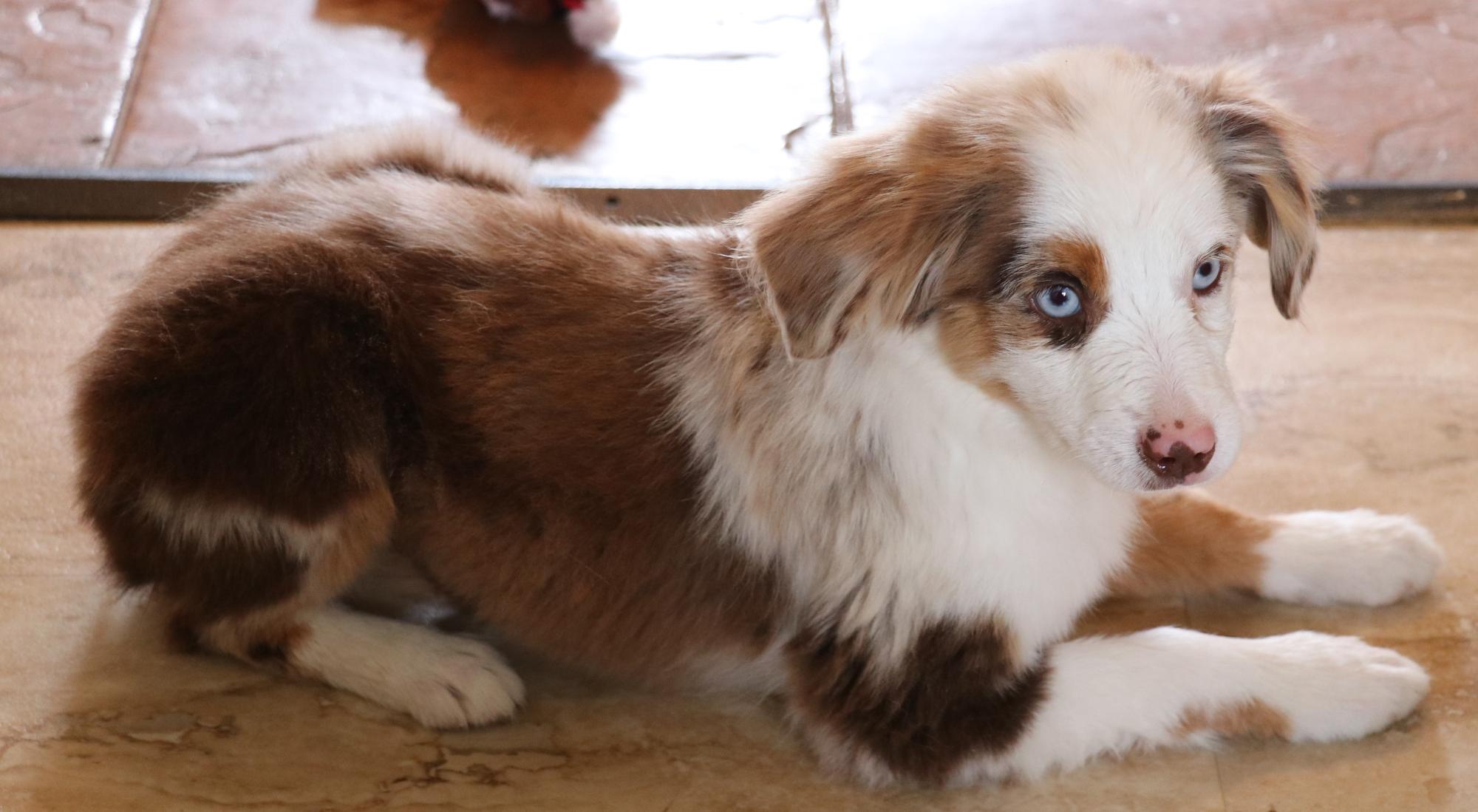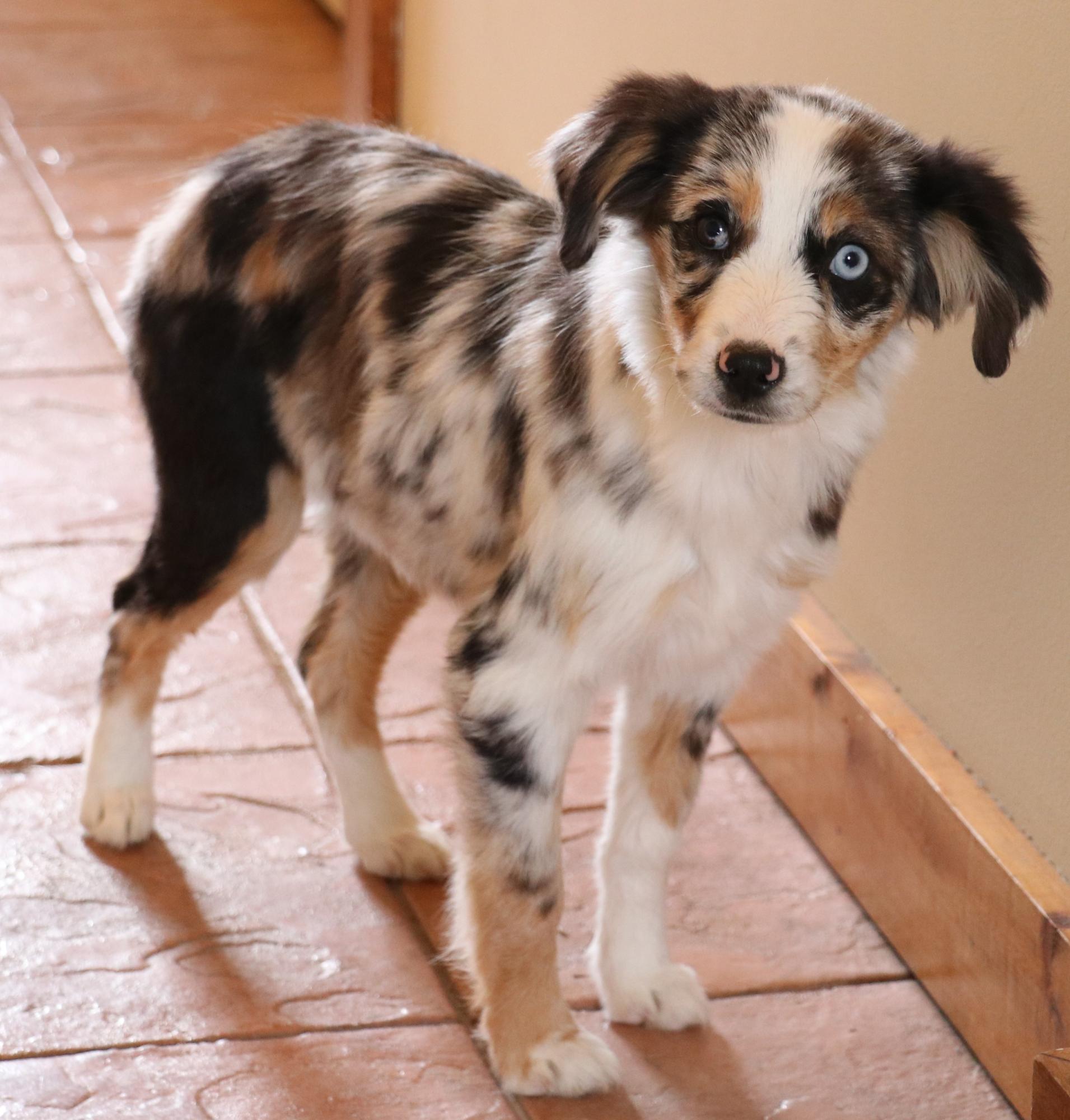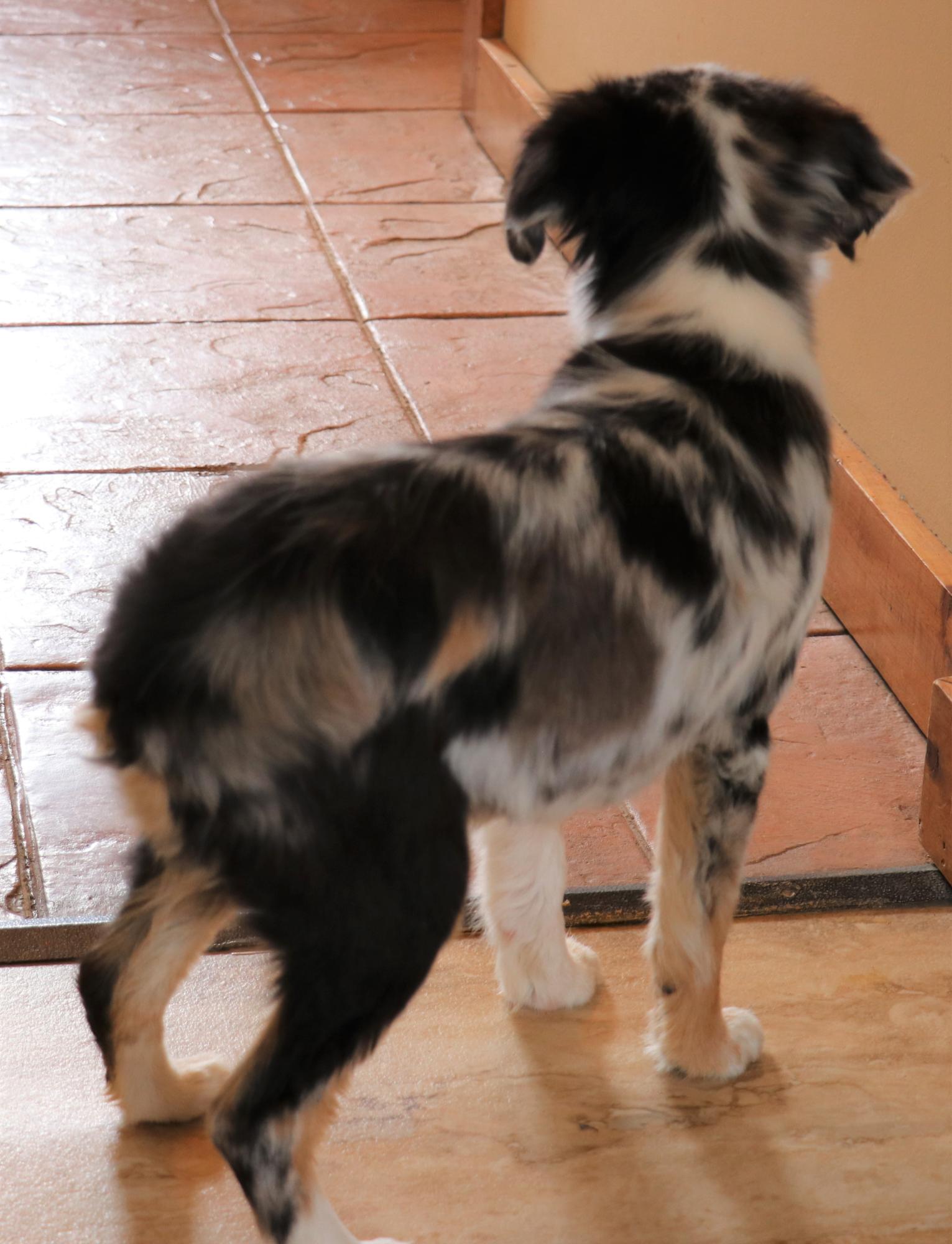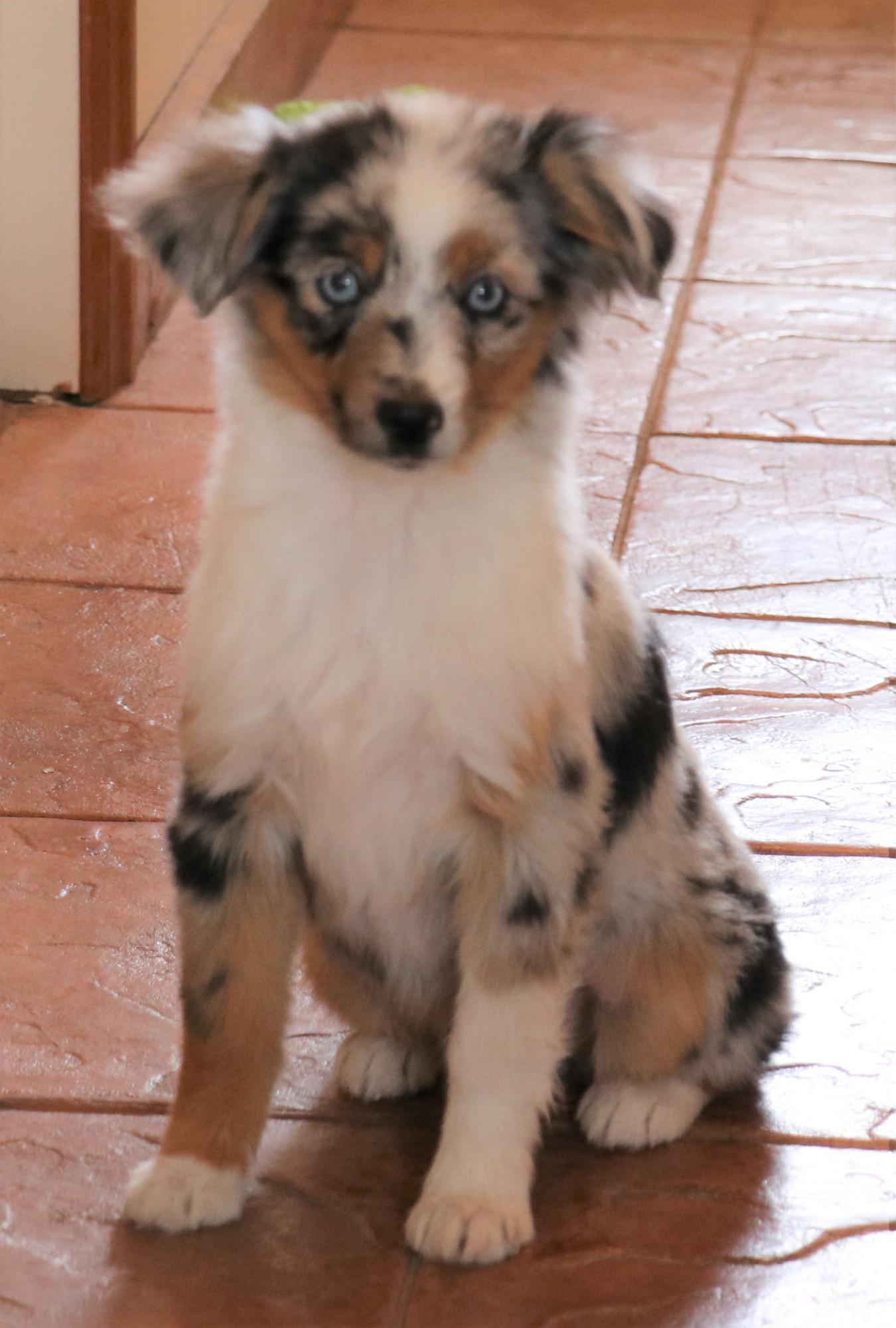 Sassy our blue merle female has this beautiful litter with Rambo our 15 lb. 13" tall blue-eyed tri. Born November 28, 2022 ready January 23, 2023 @ 8 weeks of age.
*Pictures coming soon of Sassy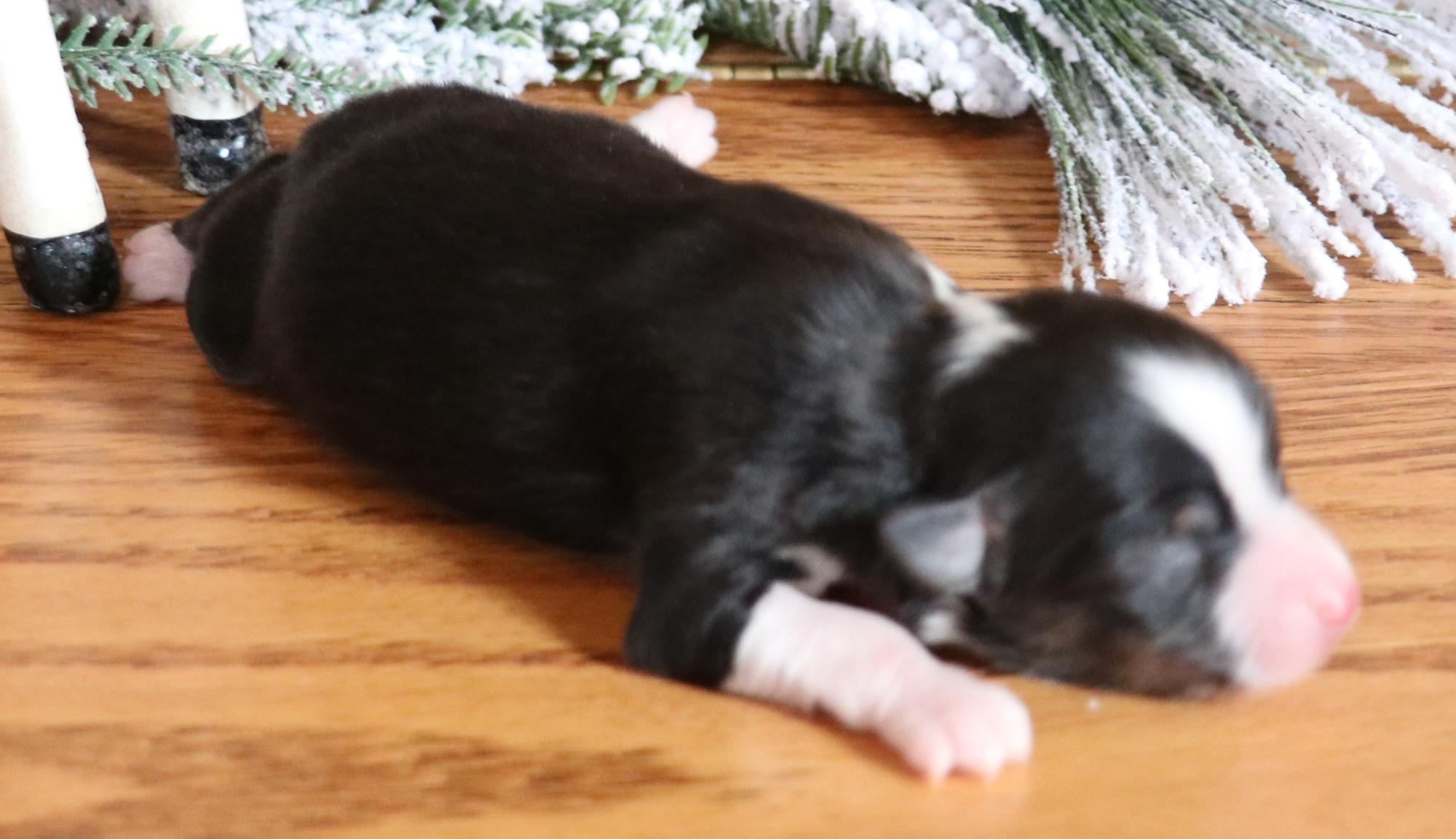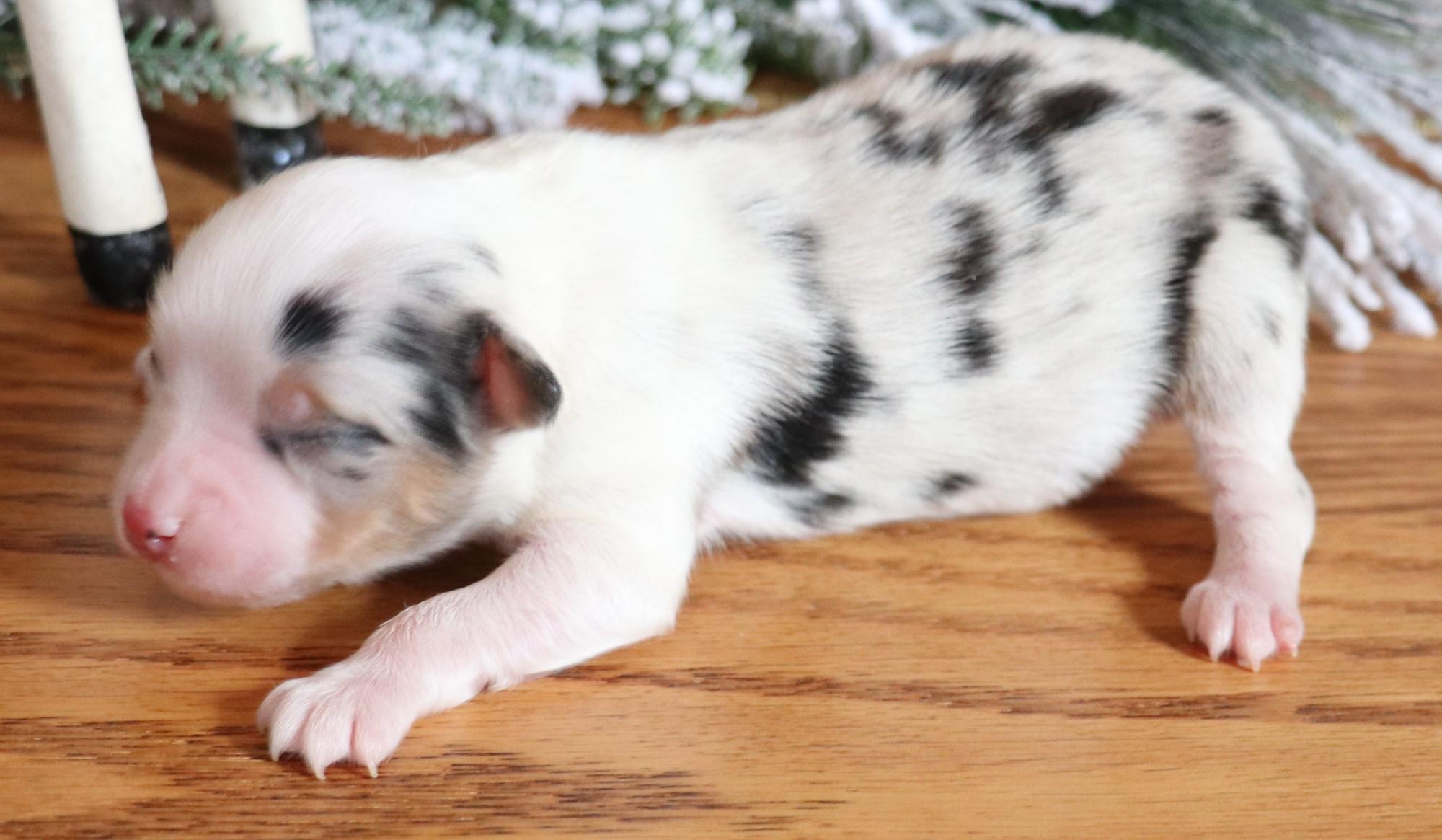 "Snow" AVAILABLE $2500 Toy Aussie Blue Merle female *possibly 2 blue eyes!
"Sandy" AVAILABLE $1200 Toy Aussie black-tri female
"Snickers" AVAILABLE $2200 Toy Aussie blue merle male *possibly 2 blue eyes!
Gabrielle our blue merle Toy Aussie female has this puppy with Rambo our 15 lb. 13" tall blue eyed black-tri stud.
Born November 25, 2022
Ready January 20, 2023