*Our Miniature Dachshund pups always come with dewclaws removed, vet checked, up-to-date on their vaccines & dewormings, also with 1 yr. Health Guarantee if $900 or more. Be sure to read our Puppy Care page for preparation as well as our Guestbook page from our many happy new families! Early deposits of $250 will reserve your puppy. Paypal link below AVAILABLE pups right hand side. Can also take credit card information over phone.
Available Miniature Dachshund puppies pictured below:
Call or text Kimberly Jones at
970-234-1596 to discuss her Dachshunds
Our email: info@dandydogs.net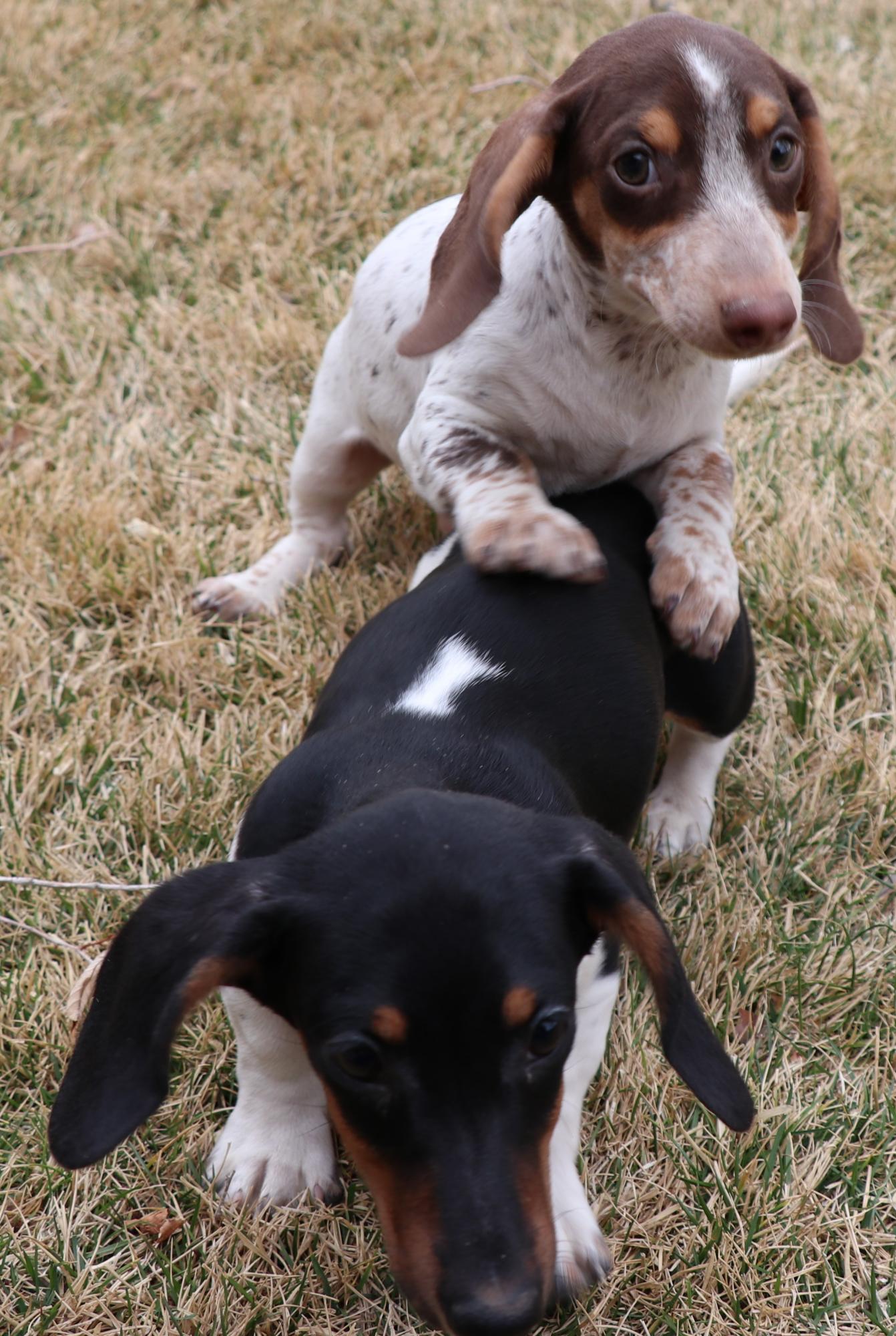 These 3 pied siblings were born 12/3/17 from Harper & Snoopy.
Hana is $1200. Sweet small black/tan pied brindle cheek girl.
Miniature Dachshund | Miniature Dachshund Breeder | Mini Dachsie | Mini Dachsie Breeder | Mini Dachshund | Mini Dachshund Breeder | Miniature Dachshund Puppies | Mini Dachsie Puppies | Mini Dachshund Puppies | Smooth | Smoothcoat | Long | Longhair | Wire | Wirehair | MS | ms | ML | ml | MW | mw | Black | Black/Tan | Red | Chocolate | Chocolate/Tan | Red Brindle | Brindle | Cream Brindle | English Cream | Isabella | Isabella/Tan | Wildboar | Dapple | Isabella/Tan Dapple | Black/Tan Dapple | Piebald | Red/White Pie | Pied | Chocolate/Tan Pie | Chocolate/Cream Pie | Isabella/Tan Pie | Blue/Tan Pied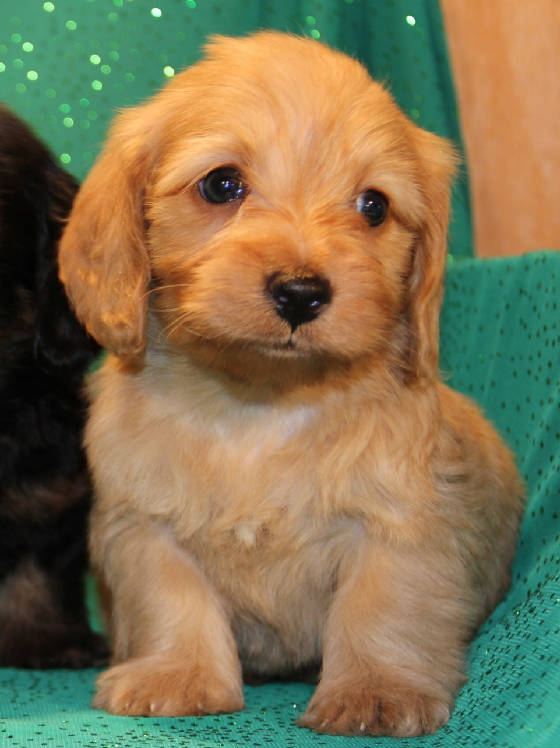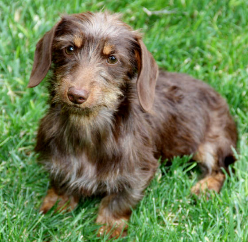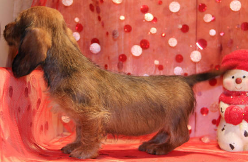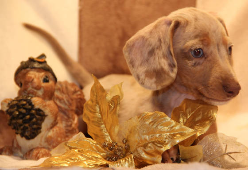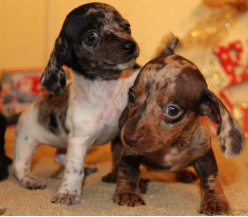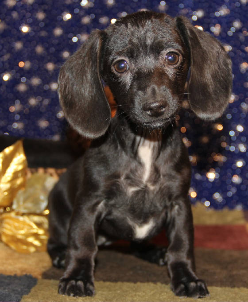 "Pokey" was born 12/27/17. Chocolate/tan softwire from Mr. Bean & Poppy. $1000
"Cookie" NOW BAILEE GONE HOME WITH VICKI W. OF DELTA, CO $2700 Chocolate/tan Dapple female with 2 beautiful blue eyes!
Sired by Cutie Pie & Whiskey
Born 3/9/18 Ready 5/4/18
"Cody" White recessived red pied male with green eyes! $1400
Sired by Cutie Pie & Whiskey
Born 3/9/18 Ready 5/4/18
Destiny X Speckles
Born 3/12/18 Ready 5/7/18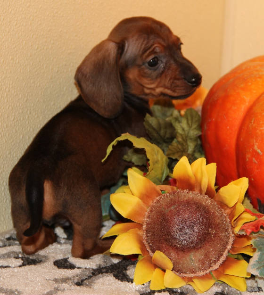 Dlyan NOW BENTLEY HAS GONE HOME WITH VICKI W. OF DELTA, CO is a Silver/black/tan dapple smooth male $2000
Diesel is a black/tan smooth male $1200
Annie X Mr. Bean
Born 3/20/18 Ready 5/15/18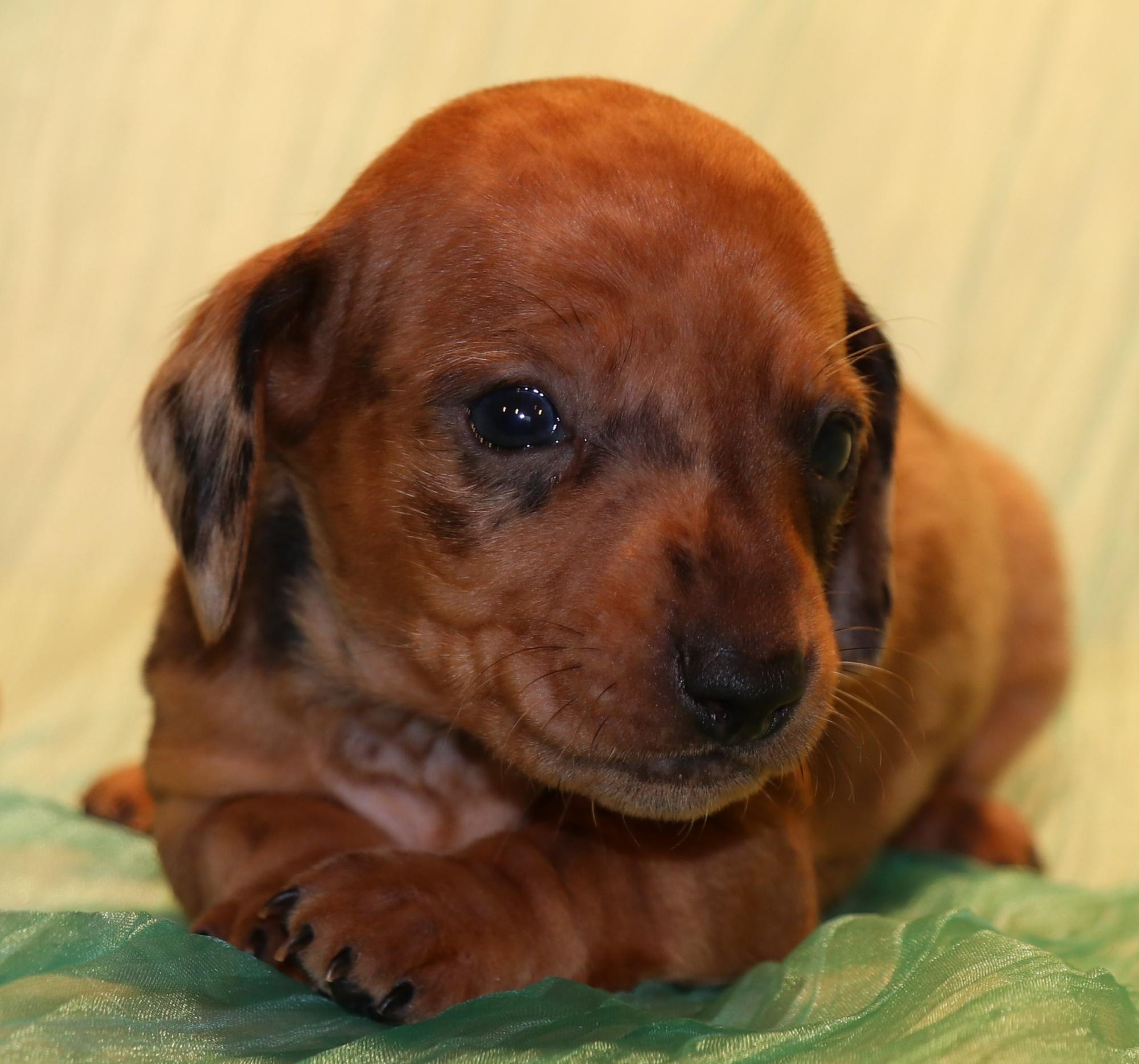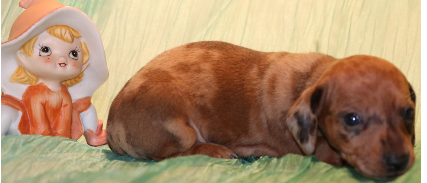 Argo is a chocolate/tan dapple smooth male $2000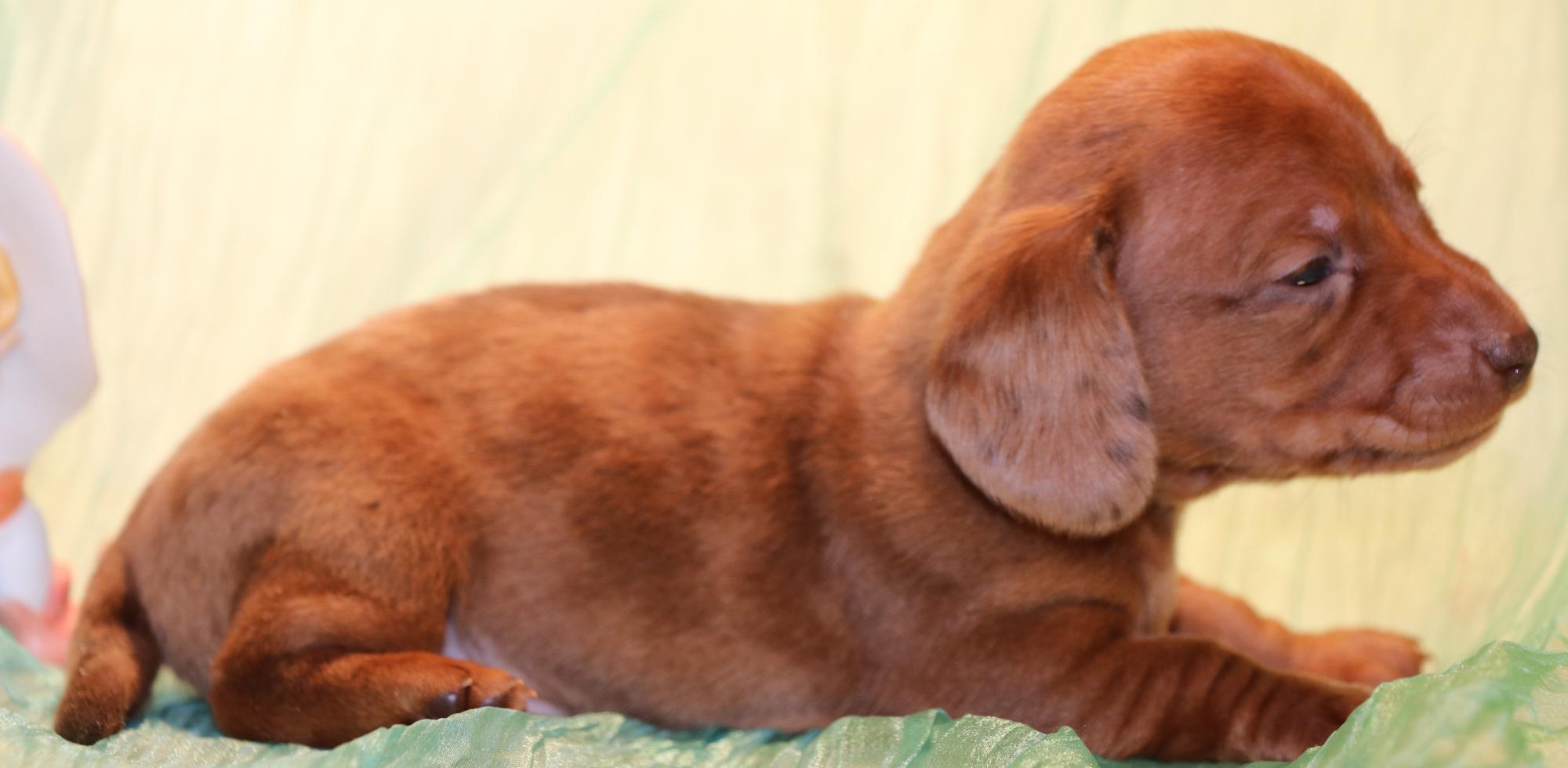 Apache is a red dapple smooth male $1500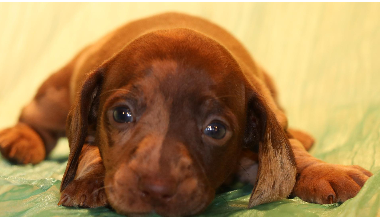 Aldo is a chocolate/tan dapple smooth male $2000
JoJo X Snoopy
Born 3/21/18 Ready 5/16/18
Harden is black/tan pied for $1000, Harden chocolate/tan pied for $1000.
We can ship your Miniature Dachshund puppy to your state for $345 (Only $400 for 2 puppies in the same crate) . Can fly your puppy to Denver, CO for $150 to be received at Centennial Airport morning & evening flights. Both options include a crate you keep.
UPCOMING MINIATURE DACHSHUND LITTERS:
Periwinkle X Speckles due 5/23/18 or after
Francie X Snoopy due 5/28/18 or after
DEPOSITS ARE NON-REFUNDABLE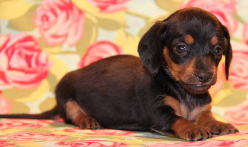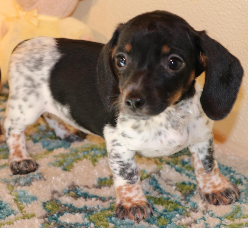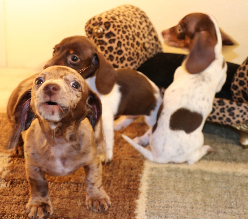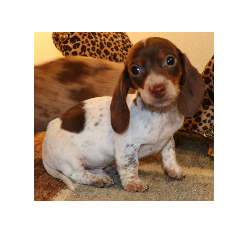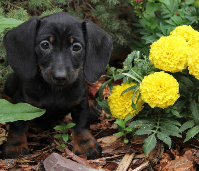 "Jericho" RESERVED BY ALEX M. OF ALBUQUERQUE, NM$2000 Black/tan Dapple smooth male
Sired by JoJo & Snoopy
Ready 5/16/18
"Joker" Black/white Dapple smooth male with white chest & white tipped tail $2400
Sired by JoJo & Snoopy
Ready 5/16/18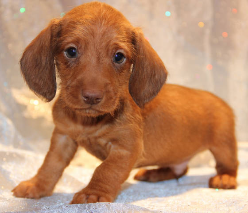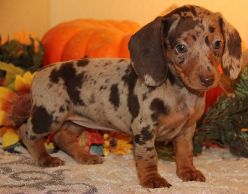 DeeDee X Speckles
These 3 girls were born 4/5/18.
"Destiny" RESERVED BY KAREN H. OF GLADE PARK, CO$1000 Black smooth female
Sired by DeeDee & Speckles-n-Spots
Ready 5/31/18
Miniature Dachshunds, known by many names: Dachsies, Doxies, Weiner Dogs & Hot Dogs are truly a delightful little breed. Brave little individuals who love people. Never seem to know a stranger. Hysterical to watch as they run being propelled by their tail. You can tell they are having FUN!
It's easy to see why they come in so many colors (black, black/tan, black/cream, red, red sable, chocolate, chocolate/tan, blue, blue/tan, Isabella, Isabella/tan, English cream and wildboar) and patterns (Brindle, Dapple & Piebald (all these patterns come in all colors)) and hair textures. You can't have just one! But how do you decide? Smoothcoats are no work at all. A true wash-n-wear dog ever so well-built. Longhaired need minimal grooming, mostly just behind the ears, though so worth it when you get to pet that amazingly silky soft coat. Wirehaired are just so darn adorable with easy care. Kinda got that gruffy, grumpy look going but we are finding them to be the sweetest natured of them all.
"Zoey" RESERVED BY KATHERINE M. OF DENVER, CO $2200 Black/silver/tan Dapple smooth female
Sired by DeeDee X Speckles-n-Spots
Ready 5/31/18
"Duchess" WILL BE GOING HOME TO CINDY B. OF ERIE, CO$1200 Chocolate Smooth female
Sired by DeeDee & Speckles-n-Spots
Ready 5/31/18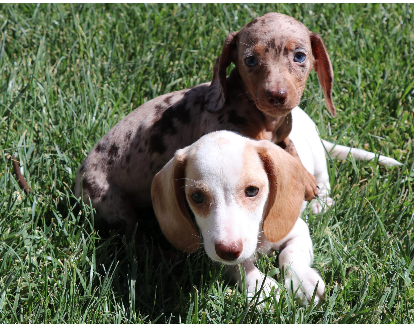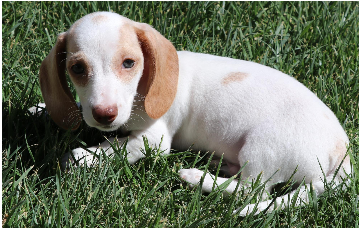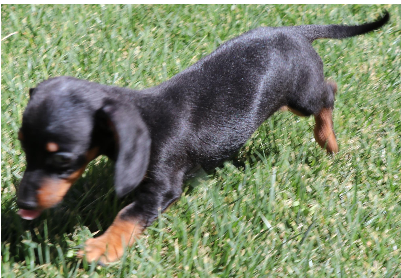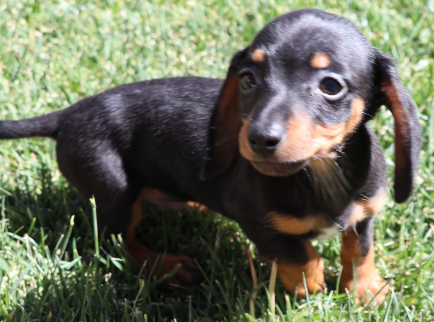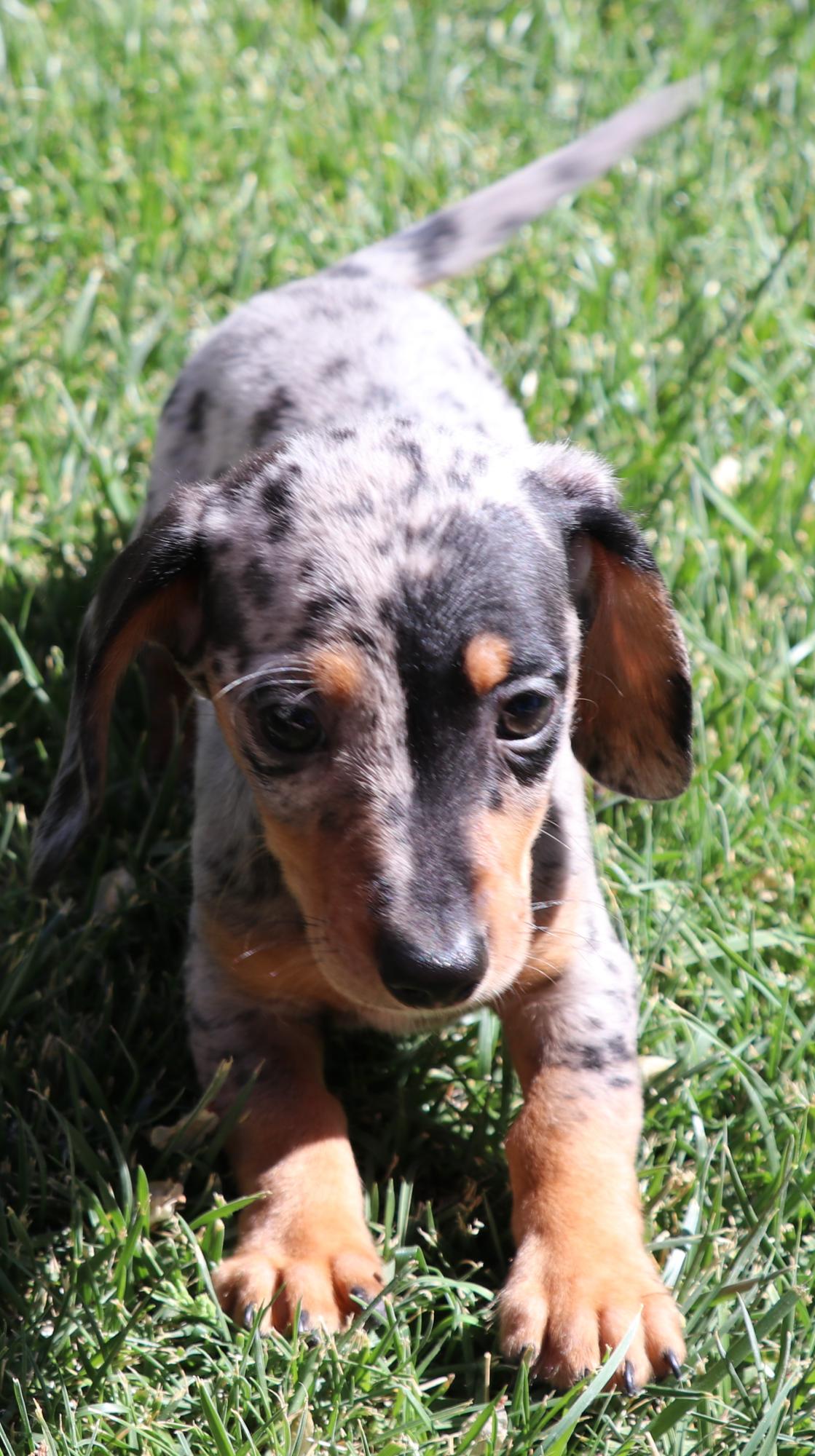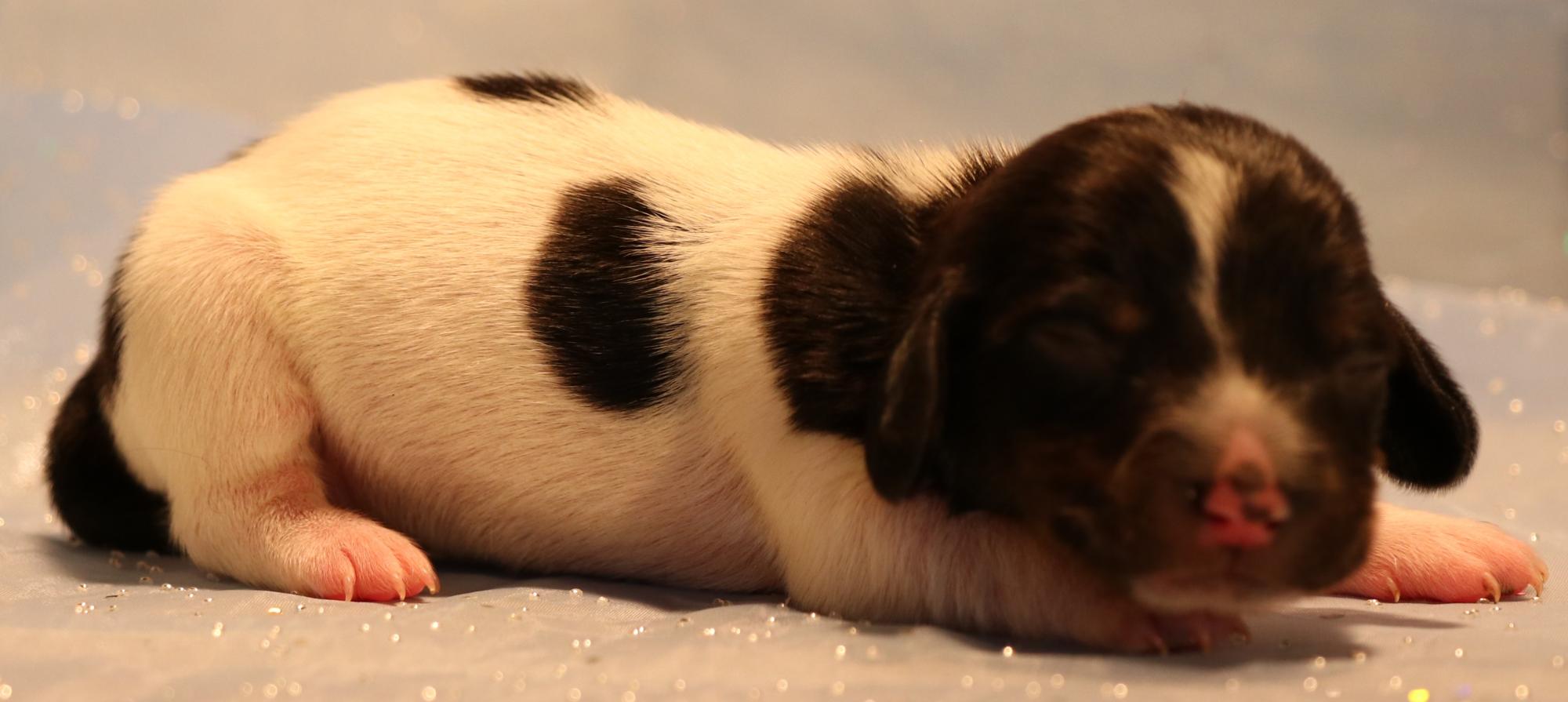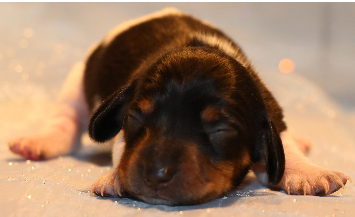 Emma X Snoopy
These 5 puppies (1 f, 4 males) born 5/8/18
"Echo" RESERVED BY ARLENE L. OF TWIN FALLS, ID Black/tan smoothcoat male $1200 Ready 7/3/18
"Emmett" Black/tan Pied brindle cheek smoothcoat male $1500 Ready 7/3/18
"Ernest" Black/tan Pied bindle cheek smoothcoat male $1500 Ready 7/3/18
"Emily" Chocolate/tan smoothcoat female $1500 Ready 7/3/18
Miniature Dachshund puppies in Delta County, Austin, CO for sale, Mini Dachsie puppies for sale in CO, Dachshund puppies in CO, Dachshund puppies for sale in CO, Mini Dachshund puppies in Austin, CO, Breeders of Miniature Dachshunds in Austin, CO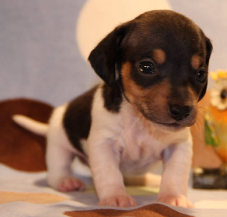 "Everett" Black/tan Pied smoothcoat male $1750 Ready 7/3/18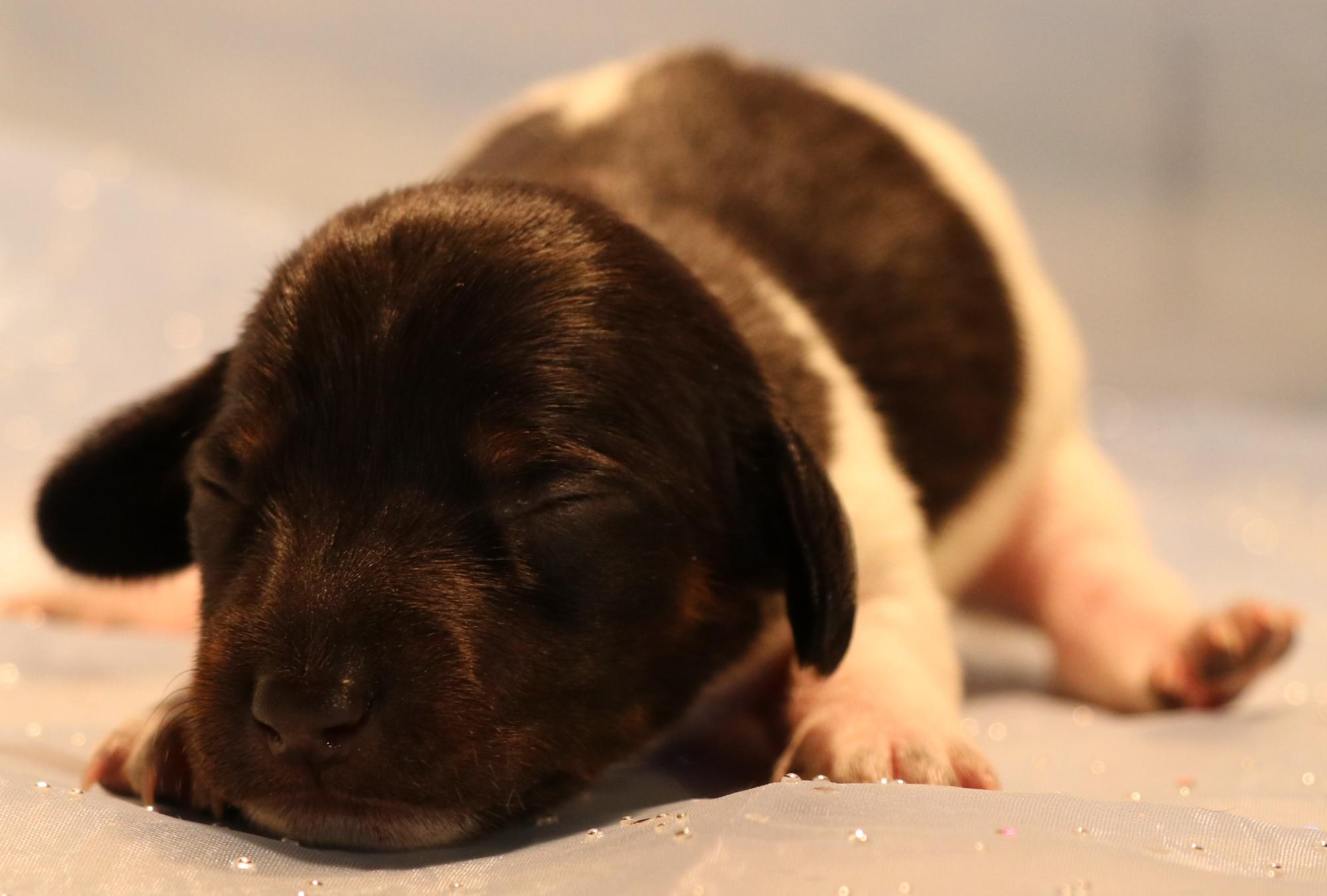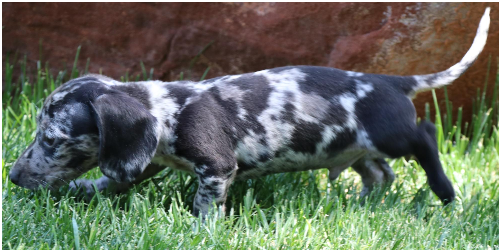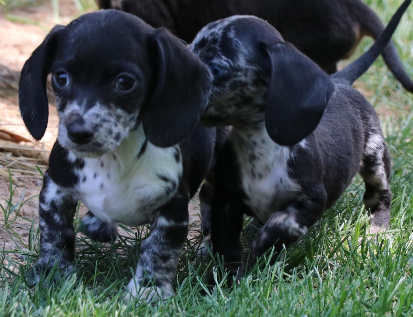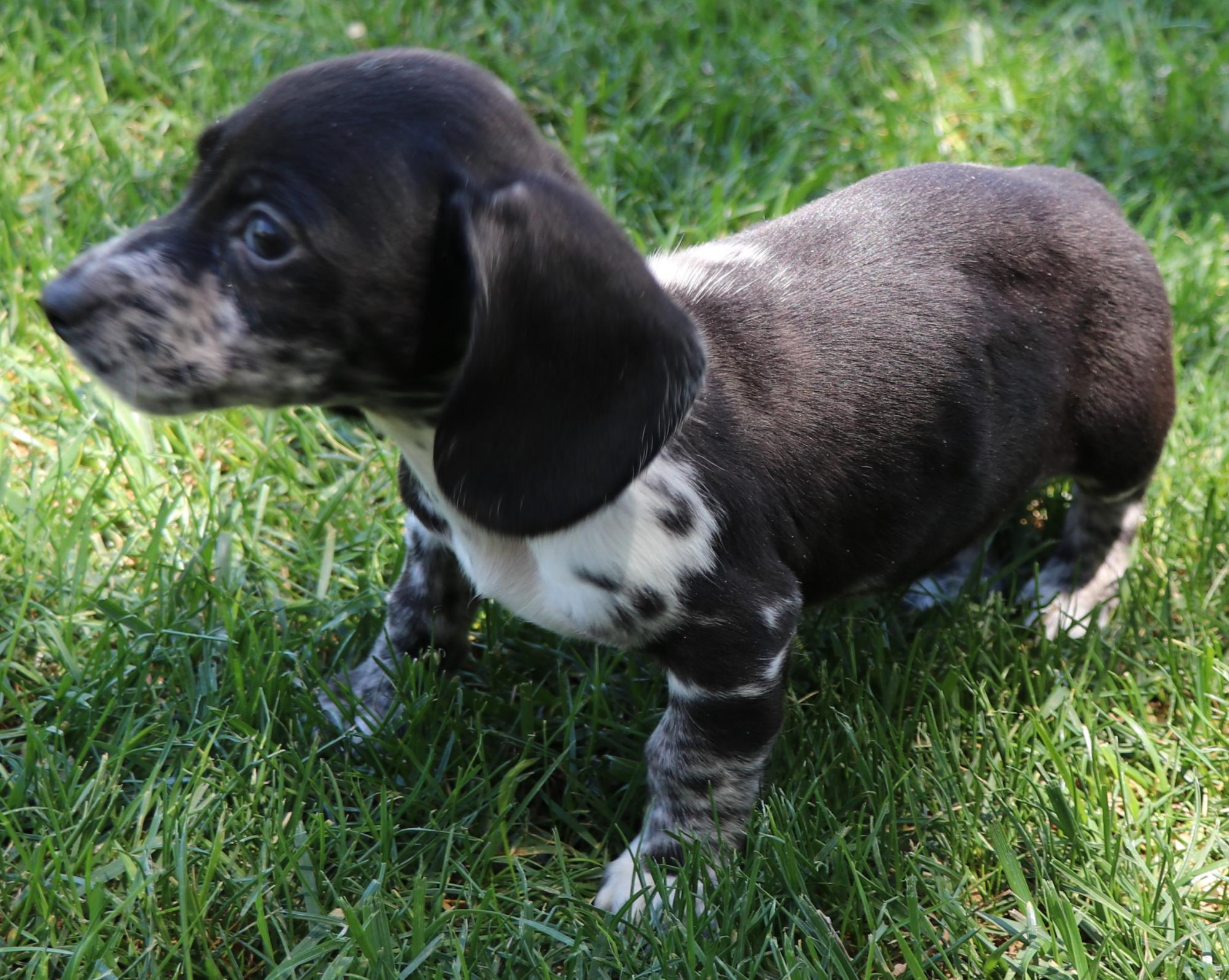 "Jupiter" AVAILABLE $2200 Black/tan Dapple with brindle smooth female
Sired by JoJo & Snoopy
Ready 5/16/18